NEWS
James Franco: Justin Bieber or Selena Gomez? "Definitely Team Selena"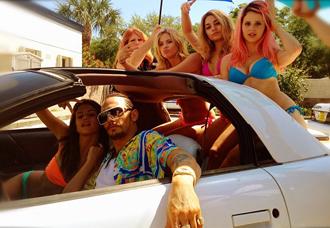 James Franco answers the question we've all been wondering: Team Selena or Team Justin? Well the answer is… Team Selena!
During an interview with website Refinery 29, James who was promoting his project with 7 For All Mankind was asked if he's ever met Spring Breakers co-star Selena Gomez's boyfriend Justin Bieber. "I haven't met Justin but I'm definitely Team Selena," he remarked.
He also was asked who has the crazier fans. "I'm sure Selena has crazier fans," he said to the site. "I was told today by these two twins that are working on the movie that Selena Gomez has the second most number of followers on Instagram. Behind only the love of her life, Justin Bieber."
Article continues below advertisement
James was also asked about any advice he gave to his hot brother Dave Franco. "That he's better looking than me," he said laughing. "No, just don't do it for money, develop your taste, and understand what you like, and just do those movies, and basically don't act in a movie that you wouldn't go see if you weren't in it."