NEWS
James Franco on Kissing Sean Penn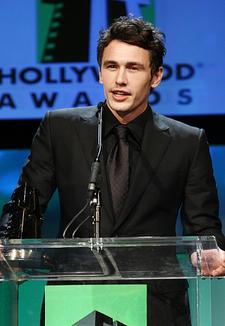 James Franco is used to locking lips with gorgeous female leading ladies, but in Milk, a movie based on the life of the first openly gay elected politician, Harvey Milk, the ruggedly handsome actor had kissing scenes with his leading man, Sean Penn.
"We didn't really plan out angles or anything," he admits to ET Canada. "There was not much talk before or after. We just kinda did it."
While director Gus Van Sant joked that he wanted the actors to k iss for 12 hours to prepare, James says it wasn't quite that intense.
Article continues below advertisement
"We did kiss for a minute straight," he reveals, "and after 30 seconds, you can't really imagine you are somewhere else –there you are kissing Spicoli."
Beyond the guy-on-guy face time, however, James has nothing but good things to say about working with Sean.
"Honestly, it was incredible to work with him, the kissing was minor," he explains.
For more James, all our Canadian readers can check the full interview tonight on ET Canada.