NEWS
Jane Fonda to Oprah: "I'm Back"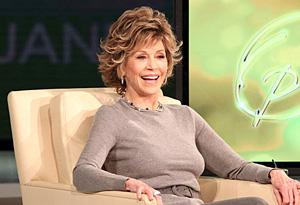 At the age of 72, Jane Fonda is "back." She may have taken a 15-year break from making films, but Jane tells Oprah Winfrey that she is officially back and better than ever.
OK! NEWS: LINDSAY LOHAN TICKS OFF OLDER HOLLYWOOD AGAIN
"Do you feel as great as you look?" Oprah asked Jane on The Oprah Winfrey Show.
"Yes," Jane announced. "I think it's just getting better!"
"Over age 50, people tend to get happier and less anxious," she explained. "Life gets better and easier."
Article continues below advertisement
She may be older, but she's wiser too.
"One part of wisdom is knowing what you don't need anymore and letting it go," she added. "We don't have to keep going back there. Been there, done that. I survived. I can do it again."
OK! NEWS: JANE FONDA TO RELEASE WORKOUT DVD FOR OLDER WOMEN
But Jane has owned up on her blog back in February to having some work done on her chin, neck and eyes.
"Now, I look more like how I feel," she said of the surgery. "I'm glad I did it."
Oprah asked, "And now when you look into the mirror, what do you see?"
"Good work!" Jane joked.
"It's a toxic desire to try to be perfect," she said seriously. "I realized later in life that the challenge is not to be perfect. It's to be whole."
"Wouldn't it be amazing if everybody ... was able to make the shift to not have your life be about being successful or getting ahead?" Oprah added. "What if our entire culture rested on, 'How do I become more whole?'"
Article continues below advertisement
"It would be a completely different world," Jane agreed. "You can't be trying to be perfect and be whole. You have to know what's wrong and say: 'It's okay. It's all right.'"
OK! NEWS: STARS REMEMBER NATASHA RICHARDSON
Oprah interview Jane 10 years ago for O magazine and since then Jane has gotten divorced from her husband, Ted Turner, and is now dating music producer Richard Perry.
"I'm falling in love again, making movies again, doing a play on Broadway," the star said. "I'm back."
Jane lives in L.A. and balanced her time between her home and Richard's home. As for the rumors she's engaged to Richard, Jane said, "No, no. I'm not going to get married again."
"It's not how I thought I'd be living at this stage in my life, but it's great."