NEWS
Jason Statham Joins the List of Kim Kardashian Haters: "She's a Brand"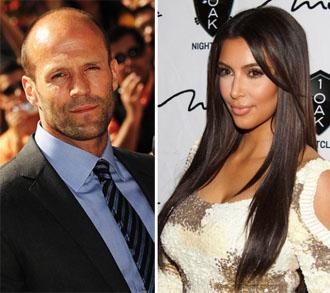 Another day, another dig at Kim Kardashian! Jason Statham is the latest star to insult the reality star, lashing out in Details magazine about pop culture.
When asked by the magazine if he saw himself as a brand, The Transporter star replied, "F*** no! Why should I?"
OK! GALLERY: ROSIE HUNTINGTON-WHITELEY & JASON STATHAM GO APARTMENT HUNTING IN NYC
"People see a guaranteed $30 million a film as a brand in need of management," the reporter acknowledged before Jason quipped, "F*** 'em. Kim Kardashian's a brand."
Article continues below advertisement
This diss comes at a not-so-pleasant time for Kim K, who is still dealing with a bashing from Mad Men star, Jon Hamm, who referred to her as a "f***ing idiot."
In an interview with Elle UK, Jon said, "Whether it's Paris Hilton or Kim Kardashian or whoever, stupidity is certainly celebrated. Being a f***ing idiot is a valuable commodity in this culture because you're rewarded significantly."
Kim called the comment "careless" and told Ryan Seacrest on his radio show this morning that she doesn't want to dwell on the harsh words.