NEWS
Jef Holm on Life With Emily Maynard: "I'm Going to Become a Car Pool Dad!"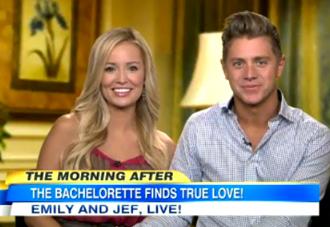 On Sunday's Bachelorette finale, viewers finally got to see contestant Jef Holm get down on one knee and ask for single mom Emily Maynard's hand in marriage. The newly engaged couple appeared via satellite on Good Morning America Monday morning eager to talk about what's next.
OK! NEWS: BACHELORETTE FINALE RECAP: EMILY MAYNARD CHOOSES JEF HOLM!
With plans to be closer to Emily and her seven-year-old daughter, Ricki, by moving to Charlotte, North Carolina underway, Jef talked about his excitement in starting their new life together. "I'm going to get a separate place out there. We're going to combine our lives and I'm going to hand out with Ricki all the time and become a car pool dad!"
Article continues below advertisement
Jef went on to say, "We're just going to live our lives together and get accustomed with each other, plan a wedding, and when we get married, move in together." But before they make any moves down the aisle, there's something Emily and Jef have to do: tell Ricki they're engaged!
Emily confessed to GMA that she hasn't told her daughter about the engagement, but for a very good reason. "Right now she knows that Jef is a huge part of my life. I didn't want to burden her with too much because it was still a secret, and God knows she's the worst secret keeper ever! Now that we can be out in public, she's going to know." Surprise, Ricki!
We watched Emily stress over whether she was ready to get engaged on the Bachelorette finale, but when Jef flashed that gorgeous 88-diamond engagement ring from Neil Lane, no one could believe the time it took for Emily to say, "Yes!
"It was kind of a surprise because we've never really talked about an engagement, even though I should have known," Emily stressed. "Really I just wanted to soak in the moment and really make a decision for my heart…Take in the moment and remember it."