NEWS
'Bachelorette: After the Final Rose' Recap: Emily Maynard and Jef Holm Make Plans for the Future!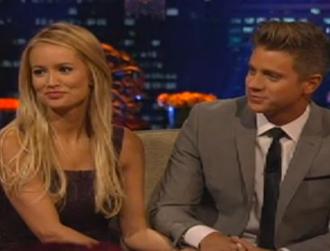 "You look in love," host Chris Harrison tells a beaming and newly engaged Emily Maynard.
"I am!" she says.
OK! NEWS: BACHELORETTE FINALE RECAP: EMILY MAYNARD CHOOSES JEF HOLM!
America had just learned that she's chosen to give her last rose to entrepreneur, Jef Holmes. As for what this season's Bachelorette loves about her new man, Emily confesses, while she could "talk all day long about all the wonderful qualities" Jef has, it's because "he brings something out in me."
Article continues below advertisement
Before America gets an update on the new couple, Chris tells us Arie Luyendyk will be joining Emily on the stage.
Looking a little nervous, Emily reveals how she feel like she didn't give Arie enough closure in Curacao and has been dealing with that gult. Well, there's no time like the present!
Taking a seat next to his old flame, Arie opens up about dealing with the shocking send-off he received on The Bachelorette finale. He confesses that it was not only shocking, but also tough to hear her end things. "I think in that moment, when you're so in love and you have this whole future planned out… you can't really see an end to the relationship."
OK! NEWS: BACHELORETTE HUNK SEAN LOWE TALKS ABOUT BEING THE NEXT BACHELOR — IS HE UP FOR IT?
So, does the broken-hearted racecar driver holding a grudge against the happy couple? "I still have nothing but love for you and I'm glad you're happy," he tells Emily.
After hearing how hard it was for Arie to deal with the surprising goodbye, Emily turns to apologize to the runner-up. "More than anything, I want you to know that I'm sorry, I'm still sorry and it was really hard for me to watch that. It put me right back in that moment. You're everything that I had looked for and you made me laugh and everything. I've learned that I need to be more direct and say things, even if it will hurt in the moment. In the end, I just had more confidence in what Jef and I had."
Article continues below advertisement
However, things didn't go as planned. Upon arriving in Emily's hometown, Arie admits, "I got there and I have a lot of respect for Jef, my best friend on the show, and I have a lot of respect for Ricki and I really thought better of it when I got there and it didn't feel right. I called her and we talked and I just told her that I would leave my journal and she could read about my experience."
And what do you know – Emily brought the journal back with her! It turns out she never read it out of respect for fiancé Jef and Arie, explaining, "it wouldn't help anything and these are this memories."
Article continues below advertisement
But, just how close was Arie to winning over Emily's heart? Emily reveals, "had Jef not been there, it would be Arie and her sitting here, so happy." Ouch! That's got to sting.
With that out of everyone's systems, it was time to bring out the one and only, Jef with one 'f'. For the first time in public, the two are finally reunited!
When asked what it is he loves about Emily, Jef gushes, "She's the most amazing girl in world, so perfect for me, so funny. I wish they showed more of that. She's so witty and caring and smart and the best mom. She's so gorgeous. We just fit perfectly together." Guys, are you taking notes?
Article continues below advertisement
Jef reveals there hasn't, but that the experience is definitely very different. "Ricki is Emily's universe and she's very quickly becoming my universe. It's way more than what I expected and better." Seriously, Emily, you snagged a good one!
Now that our Bachelorette is a bachelorette no more, what's next for the family of three?
Jef shares that Emily has always wanted to do a humanitarian trip to Africa so the pair will be heading overseas with his company to help dig wells.
When it comes to settling down in one place, Emily and Jef explain that he will be moving to Charlotte to be close to his fiancée and her daughter, Ricki, not wanting to uproot the seven-year-old from her school, family, and friends. And what about their wedding plans? Emily confesses that they don't want to be that couple that go on and on about a wedding that never happens. Planning on exchanging "I do's" in Charleston, Emily and Jef haven't picked out a date just yet. However, one thing Emily is willing to divulge: "I would love a spring wedding."
And so the countdown begins!
Were you surprised to hear about Arie's attempt to win back Emily? Do you think Emily and Jef will make it down the altar?