NEWS
Jena Malone, Romeo and Kevin Nash to Star in 'Catching Fire'?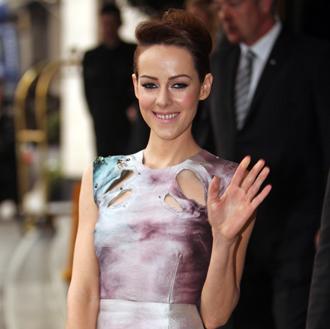 Another day, another Catching Fire casting rumor.
OK! NEWS: JOSH HUTCHERSON AND ELIZABETH BANKS GIVE UPDATES ON CATCHING FIRE: DO THEY LIKE THE NEW DIRECTOR?
While all month we've been fending off rumors about everyone from Robert Pattinson to Taylor Kitsch playing Finnick Odair, this week news leaked that Jena Malone, Romeo and possibly Kevin Nash were in talks to star in the Hunger Games sequel.
Jena Malone, who we last saw playing a kick-ass mental patient in Sucker Punch, seems to be in the running for the role of Johanna Mason. Mia Wasikowska and Zoe Aggeliki are also rumored to be up for the role, but Entertainment Weekly is giving Jenna the edge.
Article continues below advertisement
OK! NEWS: ROBERT PATTINSON TO STAR IN THE HUNGER GAMES SEQUEL CATCHING FIRE?
Meanwhile, Magic Mike star Kevin Nash could very well play Brutas and Romeo apparently "had talks with Lionsgate" about possibly becoming part of the project on some level.
"I can't really talk too much, or they'll kill me," he said. "You know how The Hunger Games is."
Right. Well. We for one cannot wait for the official cast to be announced — all this anticipation is killing us!