NEWS
Jennifer Lopez: "I Did Experience Anxiety, Doubt, Judgment"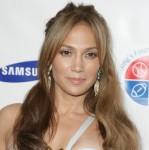 With a new album out and a strongly rumored seat on the American Idol judging panel, Jennifer Lopez is back and she has some advice for any up and coming artists: Don't doubt yourself.
The 41-year-old says she battles against "the haters". "I didn't experience doubt until later in my life. When I was young, I was just about hard work," she tells Glamour magazine.
Article continues below advertisement
"But as I got older, I did experience anxiety, doubt, judgment, and it's so easy to lose yourself for a second. I always joke about letting the haters motivate you. Everybody has that in their life, people who doubt them or make them feel less than they are.
"It just takes faith and belief in yourself, and you've got to dig deep into that. That has to come from you — nobody's going to give you that.
OK! NEWS: J.LO AND MARC TOUCH BASE AFTER TRAVELING WITH TWINS
"You can have a great mentor, a great partner, a great love in your life who gives you confidence and makes you feel great about yourself. And that's all wonderful, but at the end of the day, if you don't believe it, all of that means nothing."
Her greatest struggle now is leaving her two-year-old twins Max and Emme at home when she goes off to work. "Even now, it's very difficult for me to leave them in the morning. It just tortures me. I'm like, It's been hours; are they wondering where I am? Do they know that I love them so much and I'm thinking only about them?"
Article continues below advertisement
OK! NEWS: JIMMY SMITS ON J.LO: SHE'LL BE "WELL ROUNDED" AS A JUDGE
But at the Lopez-Anthony home, Jennifer's in charge. "I'm the one who keeps everybody on schedule, like, Got to go to bed at this time, got to eat something."
But motherhood has made her more efficient in every area. "I was talking about this with somebody — they asked, "Do you still love working?" I said, "I just do it quicker." There's no "Go to the studio, have dinner, sit there." I don't have all the time in the world anymore."
OK! NEWS: RANDY JACKSON ON IDOL: "THE ONLY THING THAT'S FOR SURE IS RYAN"
And she's still not afraid of taking on tough challenges. "I did the triathlon six months after the babies were born, and part of that was about giving myself a goal. Maybe it was an emotional thing: Like, that tiger's still in there.
"But it takes a year after pregnancy. You're not going to get slim in six weeks. For me, it's been back and forth. Now, two years later, I feel really back to normal."