NEWS
Jeremy Piven Leaves Broadway Show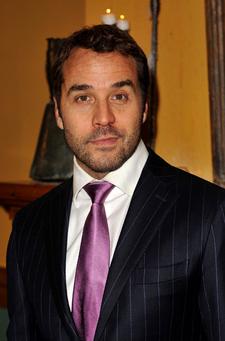 After calling in sick earlier this week and missing the Tuesday night and Wednesday matinee performances of Speed-the-Plow, Jeremy Piven has officially left the show. The cause? A high mercury count, according to his phsyician, Dr. Carlon Colker, who ordered immediate rest.
Dr. Carlon Colker tells Entertainment Tonight that Jeremy is suffering from extreme mercury toxicity, a major symptom of which is extreme fatigue, and reveals that the Entourage actor is disappointed that his fellow castmates and other members of the entertainment community haven't rallied behind him.
Article continues below advertisement
So how did the Emmy winner get so much mercury in his system? Dr. Colker says Jeremy is a huge fan of sushi, often eating it twice in one day. That combined with certain Chinese herbs the actor is find of taking could have lead to the high mercury level, which is six times the healthy amount.
The play's author David Mamet seemed to be trying to laugh off the abrupt exit, telling Daily Variety, "I talked to Jeremy on the phone, and he told me that he discovered that he had a very high level of mercury. So my understanding is that he is leaving show business to pursue a career as a thermometer."
No word yet on who will replace the Piv, but Mamet says "some really great actors will be helping out and stepping in."