NEWS
Jesse James & Kat Von D Are Done, But Their Love Continues in 'L.A. Ink' Season Premiere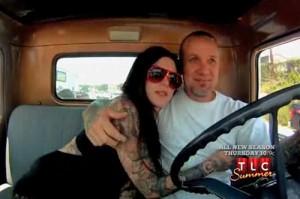 Jesse James and Kat Von D announced today that they are no longer together, but they still will be when the season premiere of L.A. Ink airs this Thursday. According to the promo video, this season will prominently feature Kat's relationship with Jesse.
OK! NEW: KAT VON D & JESSE JAMES SPLIT UP!
Kat took to her Twitter to confirm herself that her engagement with Jesse has been called off.
"I am no longer w Jesse, and out of respect for him, his family and myself, thats all the info I'd like to share," she wrote. "Thanks for respecting that."
Article continues below advertisement
Unfortunately, it looks like Kat may have to relive her relationship with Jesse for awhile longer through her TLC show L.A. Ink.
Less than a year after his divorce from Sandra Bullock after his alleged affair, Jesse proposed to Kat and subsequently she began filming her reality show.
Luckily for fans and perhaps unfortunately for them, Kat and Jesse will have to relive their relationship now on TV.
In the promo, Kat says, "Jesse asked for my hand in marriage. A long distance relationship and we're just making it work."
Article continues below advertisement
In another clip from the promo, Jesse is preparing for a race and tells Kat, "If I win tomorrow we're getting married on Sunday."
"Really?" Kat asks.
"Yes," Jesse says with a smile.
"Okay!" Kat agrees.
The promo makes it look like he won, but it appears they didn't go through with the deal.
Are you sad to see Jesse and Kat's relationship come to an end? Will you be watching it from the beginning in the new season of L.A. Ink?
Watch the promo video over at TLC.com!