NEWS
Jessica Alba, Eric Dane & Rebecca Gayheart: Park Play Date with the Kids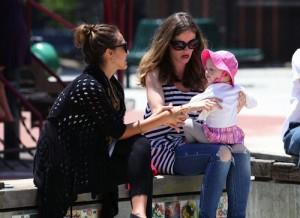 A pregnant Jessica Alba took her daughter Honor Warren out to a park in L.A. on Saturday and ran into celebrity pals Eric Dane and Rebecca Gayheart with their 1-year-old daughter Billie Dane, making way for a fun play date!
Eric, 38, and Rebecca helped Billie on the swings, while Jessica and Honor enjoyed some downtime on a the grass before hitting the sandbox.
Article continues below advertisement
Later on in the day, Jessica chatted with the couple, although a bit distracted by the paparazzi at Coldwater Park.