NEWS
Jessica Simpson: Betrayed by John Mayer!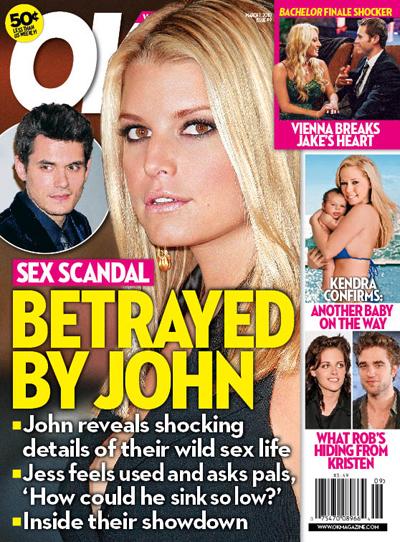 Jessica Simpson: The pop singer is reeling now that ex John Mayer talked about their sex life in an interview with Playboy magazine. Shocked and humiliated, Jess is trying to figure out how to confront him. But, for now, she's relying on friends and family to get through this. This is not a first for John: Find out what he said about his other ex-lovers and read about Jessica and John's happier times.
The Bachelor: According to Internet reports, Vienna Girardi is the woman who will claim the final rose and the key to Jake Pavelka's heart on the finale of the hit ABC reality show. But all that happiness may be crashing down as stories from Vienna's past are leaking out, including allegations that she drained money from her ex-husband's bank account (after they split) so she could pay for breast implants. Also, find out who could possibly be the next Bachelorette.
Kendra Wilkinson Baskett: Just two months after giving birth to her son Hank IV, Kendra reveals exclusively to OK! that they are definitely interested in having another baby. Find out how the happy couple spent their first Valentine's Day as parents, away from their baby boy.
Robert Pattinson: In a new interview with Details magazine, the hot star of Twilight unveils revealing new tidbits about his life, from his fear of the female anatomy to his appreciation of '80s porn. How does galpal and co-star Kristen Stewart feel about these newest revelations?
Article continues below advertisement
Plus: Are Ashlee Simpson-Wentz and hubby Pete ready to have more kids?; The hottest men of the Olympics are looking for gold medals and love; How to live like... American Idol host Ellen DeGeneres; Tips on how to get Jennifer Aniston's fabulous hairstyle; Travel to the beautiful city of Santa Fe, N.M., just like Julia Roberts does; Kris Allen, Allison Iraheta and Adam Lambert rock NYC; Lasting impressions of Jennie Garth.