NEWS
Jessica Simpson's Svelte & Slim Again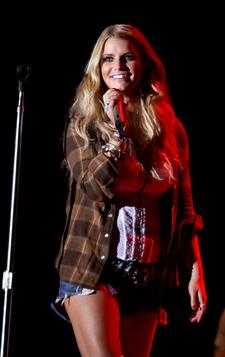 Jessica Simpson has bounced back from the negative buzz surrounding her weight, showing up at a recent show in teeny tiny Daisy Dukes and a tight corset top. Many stars might've just thrown in the towel and grabbed the cheesecake. So how'd she do it?
"The whole thing wasn't as traumatic for Jessica as everyone made it out to be," her longtime personal trainer Mike Alexander tells PopTarts. "She's a confident and naturally beautifully girl who works hard."
Article continues below advertisement
Part of the problem with those unflattering pictures (high-waisted jeans, double belt) taken of Jess was a bad angle, the trainer says, but also, the pics were snapped at the beginning of her tour with Rascal Flatts, and even performing daily and working hard can have an affect on weight.
CLICK HERE FOR JESSICA'S WEIGHT ROLLER COASTER GALLERY!

"Jessica is now at the end of her tour and looks great. It's not easy to have a super strict diet when you are touring so you just have to make the best of the restaurants you go too but she's knows what to eat and what not too and we talk about all of that," he says, adding that she also does 30 minutes of resistance training 4-6 days a week.
Sure looks like it's paying off!