NEWS
Jillian Michaels Tweets Goodbye to 'The Biggest Loser': "Season 11 Will Be My Last"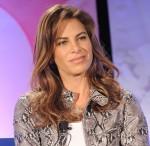 Jillian Michaels, one of the trainers on the reality show The Biggest Loser has announced on her Twitter she'll be leaving the show after Season 11.
OK! EXCLUSIVE: ADA WONG'S BIGGEST LOSER BLOG — HOME SWEET HOME
"Season 11 of Biggest Loser will be my last have to finish out my contract," Jillian reportedly Tweeted on Dec. 7 on her account.
What does that mean for the show?
According to Jillian, she will just be replaced writing, "they already hired her. Using my last season to help launch her in season 11."
Article continues below advertisement