NEWS
Jillian Michaels Was "Ashamed" She "Most Likely Couldn't Get Pregnant"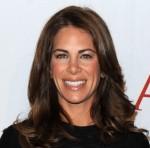 Jillian Michaels was widely criticized for her comments on pregnancy after she said "couldn't handle" doing "that" to her body. But now, Jillian is admitting that she really said that because of her own insecurities of not being able to get pregnant.
OK! NEWS: JILLIAN MICHAELS "CAN'T HANDLE" RUINING BODY WITH PREGNANCY
"I'm going to adopt. I can't handle doing that to my body," Jillian previously told Women's Health magazine in an interview. "Also, when you rescue something, it's like rescuing a part of yourself."
Article continues below advertisement
But Jillian is now opening up and explaining the real reasons why she would like to adopt.
"The reality is that I have endometriosis, and I most likely couldn't get pregnant, Jillian admitted to The New York Times. "I've had the X-rays, my tubes are closed, the uterine lining is too thick, blah, blah, blah."
OK! NEWS: JILLIAN MICHAELS ADMITS NOSE JOB — "PLASTIC SURGERY IS A VERY PERSONAL DECISION"
"I was ashamed about it because I thought I'm supposed to be the healthiest woman in the world, and what does this say about me if I can't have kids of my own," she explained. "It was insecurity, which I have to work on."
According to PopEater, Jillian felt the need to speak out to the Times even though the comments were made months ago because the mean comments haven't stopped.
"Jillian would much rather have kept her private life private," a friend of the star tells PopEater. "She thought the nasty comments would stop but once it became clear that they wouldn't she felt the need to address it head on."