NEWS
Jimmy Kimmel Tells Tsunami Tale & Urges Fans to Donate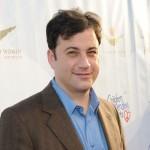 Article continues below advertisement
His nightmare came true when the tsunami hit as Jimmy has dreamed about since he was young.
"The dream goes like this. I am outside. Without warning, the tide starts to go out. As the water is sucked away, I know what is happening. The sea pulls back, loading up. For a moment, it disappears. Then a wall of water a thousand feet high towers over me. It is too big to run from," he explains of his dream (via PopEater). "All I can do is watch, frozen by fear. And then I wake up. It's scary."
So when Jimmy went on his vacation to Bora Bora, he constantly talked and worried about tsunamis.
"I knew we'd be fine because I operate under the (logical) presumption that tsunamis never strike while one is talking about them or even soon after. So, to keep us safe, from the moment we touched down in Tahiti, I talked about tsunamis non-stop," he says. "At least 25 times over five days (ask Molly, she counted). At 5:00 pm on Thursday March 10, Molly and I were caught in a sudden rain shower."
Article continues below advertisement
OK! GALLERY: EARTHQUAKE & TSUNAMI HIT JAPAN — STARS TWEET PRAYERS & SUPPORT
But that rain shower resulted in a forced evacuation from his hotel.
"The plan was to get us to higher ground. We were told we'd take a short ride to the 'big' island (only 19 miles around), hike to the top of a hill, and wait it out. The blue sky and water were now pitch black," he writes. "Our boat started and began to move. Then it stopped. Then it started again. And stopped. The boat started and stopped no less than fifteen times... Molly was scared. I comforted her by not vomiting."
Once they reached their destination, Jimmy had to wait out the storm which almost completely missed the island.
Now, Jimmy wants to help those living through the disaster as much as he can.
"We were and are very lucky, almost shamefully so," Jimmy says. "Going forward, I will try hard to remember that. The minor scare I experienced gave me a glimpse of the intense horror Japan is still experiencing. Help them if you can. Give to the American Red Cross here and send your good wishes and prayers Japan's way. Sincerest thanks those who sent their wishes and prayers my way and to my daughter Katie, who gave news of our safe return a 'like' on Facebook."