NEWS
The JoBros Take on Toronto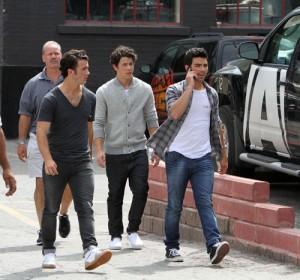 Everywhere these JoBros go, the cameras are sure to follow! Kevin, Joe and Nick Jonas were snapped by paps on their way out of the CTV Building after hosting an episode of eTalk all the way up in Toronto yesterday. Gotta give love to the Canadian fans, too!
OK! GALLERY: THE JONAS BROTHERS AT BAT TO X THE TXT
These guys are always so busy! If they're not performing, they're out interviewing and lending their famous faces to charity, or recording music videos and new material. How do they find the time?
Article continues below advertisement
OK! NEWS: THE JOBROS JOIN BASEBALL BENEFIT AUCTION
Lately, the guys have combined their love of baseball with helping others, playing at a benefit game to for the X the TXT campaign to keep kids from texting and driving, as well as signing baseball for Little League Baseball!