NEWS
Jodie Foster: Abigail Breslin's "Born to Be an Actress"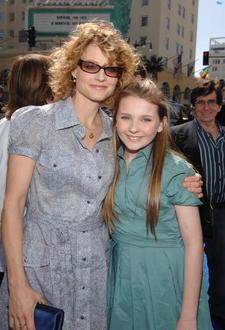 Since she's a former child star, it's easy to assume Jodie Foster would share some words of wisdom with a current young starlet, Abigail Breslin, her co-star in Nim's Island. However, the double Oscar winner tells OK! there was absolutely no need to lend Abigail a helping hand.
"She's different in that in some ways I think that she's a deeper actress than I was at that age," Jodie tells OK! at film's premiere. "She has an access to a well of emotions that I wasn't aware of at that age. She was born to be an actress. I learned as time went on."
Article continues below advertisement
Abigail, who plans on celebrating her 12th birthday on April 14 in Disneyland, confirms Jodie didn't give her any direct advice, but that doesn't mean Little Miss Sunshine herself didn't learn a thing or two from Jodie.
"Just watching her, you're learning from her," Abigail tells OK!. "It was just really cool."
Nim's Island, which opens Friday, is an adventure-fantasy film about a young girl (Abigail) who lives on an island with her father and communicates with the author of the novel she's reading. It's Jodie's first children-friendly film in a while, which she is happy about as her children, Charles, 9, and Kit, 6, can see it.
"I really wanted to show a lighter side of myself," she says. "I'd been looking for 15 years, searching for a movie that had a lighter hand. My kids have never seen a movie of mine. This will be the first time. It's their first premiere too!"
By David Lasky