NEWS
Prison Payback: 'Tiger King' Star Joe Exotic Beaten To A Bloody Pulp, Sexually Assaulted In Prison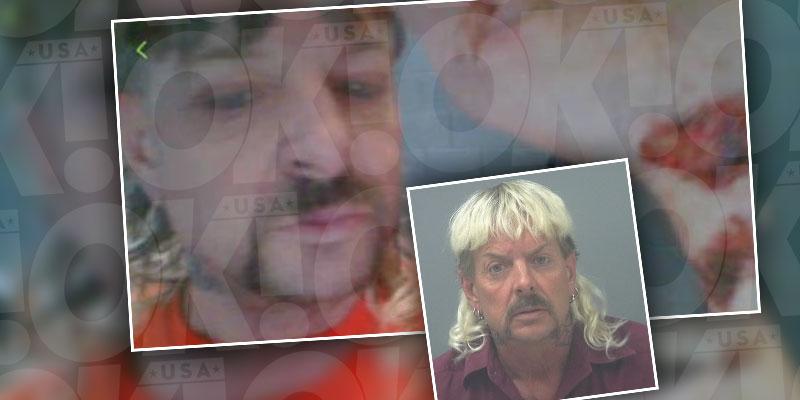 Joe Exotic—the architect of a murder-for-hire plot and controversial star of the Netflix series Tiger King—just got a taste of his own brutality, OK! has exclusively learned.
Photos provided to OK! show a bloody and beaten Joe following a recent incident after he was transferred in March from the Grady County jail in Oklahoma to the Federal Bureau of Prisons facility in Texas to serve a 22-year sentence for murder for hire and animal abuse.
Article continues below advertisement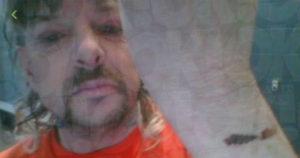 Joe, who is openly gay, was convicted on 17 federal charges of animal abuse (eight violations of the Lacey Act and nine of the Endangered Species Act) and two counts of murder for hire, for a plot to kill Big Cat Rescue Chief Executive Officer Carole Baskin, who will appear on the next series of Dancing with the Stars.
In an email, Joe claimed he was sexually assaulted at the hands of a prison guard and beaten into submission.
"I was sexually assaulted by a guard in Grady County (Oklahoma), beat the f*ck up and stripped naked," Joe said.
DON LEWIS'S FAMILY OFFERS $100K TO HELP SOLVE THE CASE OF CAROLE BASKIN'S MISSING HUSBAND
"I was tied in a chair (for) so long the skin came off my arms … and then locked in a room naked for eight days sleeping on a cold metal shelf on the floor with dried feces and sperm on it from so many others before me. There is no mental help there—it's just abuse."
Article continues below advertisement
When he was moved to Texas, Joe was placed in isolation at the Federal Medical Center in Fort Worth.
The big cat breeder was sentenced in January to 22 years in prison for twice trying to have his chief critic killed, for illegally killing five tigers at his zoo in Wynnewood, Oklahoma, and for other crimes.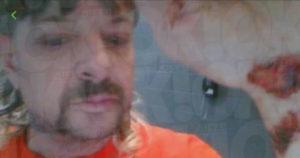 In March, he sued the U.S. Fish and Wildlife Service, his lead prosecutor, a federal agent, a former business partner and others he blames for his arrest and conviction. He is seeking almost $94 million.
Joe's disclosure about the alleged assault was made to Gay USA, the weekly television program, and provided exclusively to OK!.
Describing his time in Grady County as being the subject of hatred, he said he was pummeled and "abused, mentally and physically."
OH NO! THE CRAZIEST NIP SLIPS EVER!
"A lot of times you are kept in solitary with nothing or no one which is very hard mentally, I was stripped naked in a closet by a guard in Grady County and told I was going to learn to give head (oral sex) the convict way and when that didn't work out is what the results of the bruises and bloody arms you saw.
"In prison, they have groups they call cars and it's very racist. If you're gay you're not allowed in the TV room to watch TV either, you're treated the same as sex offenders by the inmates."
Joe became the biggest name in pop culture earlier this year after the hit Netflix documentary series, Tiger King: Murder, Mayhem and Madness.