NEWS
Joe Francis to Release Nude Video of NYC Call Girl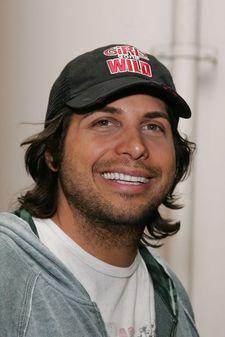 He's just been released from jail and, already, Joe Francis is back to doing what he does best -- making waves.
The Girls Gone Wild founder sat down with E! News to discuss his ties to Ashley Dupre, the call girl who brought down the governor of N.Y., Eliot Spitzer.
Francis says that in 2003, Dupre appears on seven tapes for his series. In what couldn't be better timing, the former jailbird now plans to release the footage, despite the protests of Dupre's lawyer, who claims she was 17 during some of the taping.
Article continues below advertisement
"We are getting pressure from her lawyer," Francis says. "As soon as we withdrew the million dollar offer, he is just mad because her price has dropped. Even if she was 17, we could still release it. There's no sexual contact. There's only nudity."
In the raw footage, Dupre is seen kissing a stranger on the street, wearing a "GGW" hat and T-shirt. Francis tells E! News, "She did nothing more than show her breasts and kiss a few girls... but there's full nudity."
As for timing the release with Dupre's public fallout with former N.Y. governor Eliot Spitzer, Francis says, "This is a stroke of luck. We didn't even know we had the footage. I said, 'Has anyone checked the archives to see if she's in there?' And it turns out she was. It happened in this very room. It takes three seconds to search our database."
Francis adds, "She probably hates me. But now we are going to capitalize on it by putting it on girlsgonewild.com."
The online release of the video has been delayed while lawyers discuss the protests made by Dupre's attorney. But Francis assures that it will be online "in the next couple of days."
When asked if Francis would date Dupre: "Absolutely not," he said. "You think I would follow Spitzer?"