NEWS
Johnny Depp is a Regular Guy, Says 'Alice' Co-Star Anne Hathaway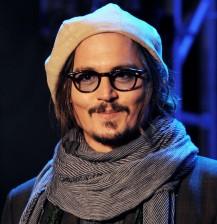 Article continues below advertisement
"I admire that so greatly — it's not only that it's not gone to his head, but it's not changed him one iota, and I think that's remarkable," says Anne, who plays the White Queen in Tim Burton's latest movie.
OK! NEWS: ANNE HATHAWAY GOES PUNK ROCK FOR WHITE QUEEN
So how did Anne make sense of her character in that crazy world down the rabbit hole? "It's Wonderland — my character doesn't really have to make any sense," she says.
"I can have just as much fun, be just as creative as everyone else, even though I am the queen and the one that's apparently in charge of everything," she says. "But being in charge of a mad world means that you can be nutty, so then I just kind of went nuts."
OK! NEWS: JOHNNY DEPP'S MAD HATTER STRIKES A POSE
Opening in IMAX 3D and conventional theaters in Disney 3D on March 5, this reboot sees a 19-year-old Alice escaping the prospect of a dull marriage by returning to Wonderland, where she meets her old childhood friends: White Rabbit, Tweedledee and Tweedledum, the Dormouse, the Caterpillar, the Cheshire Cat, the Mad Hatter and her old foe the Red Queen.