NEWS
White Queen Anne Hathaway Goes Punk Rock for 'Alice in Wonderland'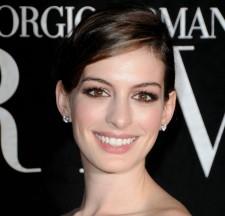 Anne Hathaway describes her spooky-looking, white-haired character in Tim Burton's new version of Alice in Wonderland as a "punk-rock, vegan pacifist."
"I play the White Queen," she says of her part in the movie that premieres in London on Feb. 25, reports Just Jared, and hits theaters on March 5.
HOW DID ANNE HATHAWAY ANNOUNCE OSCAR NOMINEES?
"When I was trying to work her out, I kept saying to myself, 'She is a punk-rock, vegan pacifist.' So I listened to a lot of Blondie, I watched a lot of
Article continues below advertisement
movies, and I looked at a lot of the artwork of Dan Flavin.
"Then a little bit of Norma Desmond the main character in Sunset Boulevard got thrown in there, too. And she just kind of emerged. And I really like her."
SEE HOW JOHNNY DEPP AND VANESSA PARADIS KEEP THEIR LOVE ALIVE
Meanwhile, learning to work with the green screens was a little like going through the looking glass. "I took a very Zen approach to filmmaking on this one," she says. "It sounds silly, but I had no idea what was going on.
"I walked in, and it was like being in a neon-green terrarium — green on all sides and tons of empty space. Tim knew what was going on — he was the one that is in control of it.
OK! VIDEO: WATCH THE ALICE IN WONDERLAND TRAILER HERE
"All I needed to do was hit my mark and say my lines and wait for Tim to tell me that we're ready to move on. And that was my approach to it. I didn't put any other pressure on myself. I just showed up and acted."
While Johnny Depp looks appropriately insane as the Mad Hatter, Anne describes her ethereal white Colleen Atwood-designed costume as "grand and the most fragile dress I've ever worn in my life. I love it so much. It's beautiful.
OK! VIDEO: SEE AVRIL LAVIGNE PERFORM THE MOVIE'S TITLE TRACK, 'ALICE'
"If you ever had a dream of being any kind of fairy princess, this is the dress you would wear. I love the idea that it's this idealized, fairy-tale Queen, but it is in a Tim Burton movie, so there's darkness mixed up with it as well."