NEWS
Jon Gosselin Accused Of Punching And Kicking Son Collin; Kate Fights Back: 'Enough Is Enough'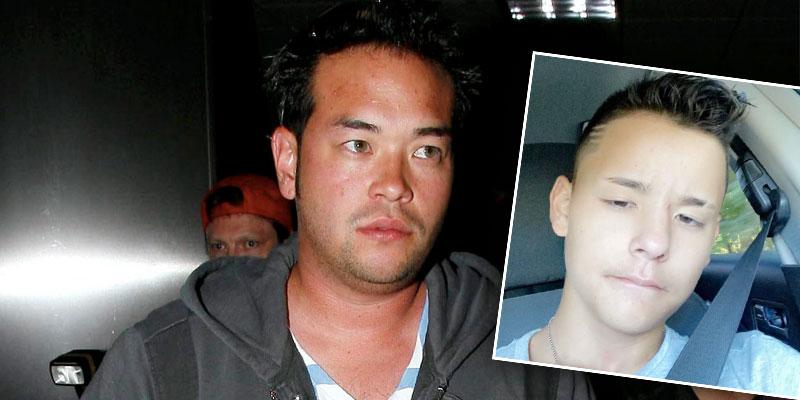 A formal investigation of child abuse has been launched following an incident involving Kate Gosselin's 16-year-old son, Collin Gosselin.
Collin accused his father, Jon Gosselin, of punching and kicking him on Instagram, according to PEOPLE.
"My dad is a liar," Colin wrote in the since-deleted post. "Yesterday he beat me up and thought nothing of it, he punched me in the face and gave me a swollen nose and I started bleeding. He then continued to kick me in the ribs after I was on the floor. He is a liar."
Article continues below advertisement
REPORT: KATE GOSSELIN FOUND IN CONTEMPT OF COURT AFTER FILMING HER KIDS FOR REALITY SHOW
A source told the outlet that the incident occurred after Collin became angry with his father after the two were talking in a car.
"Collin got furious and was screaming and swearing. When they got home, he was still screaming and cursing and he went into the garage and got… a big heavy bottle of liquid — and hurled it at Jon's car, denting it," the source told the publication. "Jon got out of the car enraged, put him in a headlock, punched him square in the nose, and when Collin fell to the ground, then he kicked him in the ribs."
It was confirmed by PEOPLE that the County of Berks, Pennsylvania Child & Youth Services has notified Collin's mom, Kate, of an open investigation into an alleged violent incident between Jon and Collin that happened earlier this month.
JON GOSSELIN REVEALS THAT KIDS HANNAH & COLIN 'PROBABLY' WON'T SEE MOM KATE OVER THE HOLIDAYS
The allegations are "causing bodily injury to a child through recent act/failure to act: hitting/punching," according to the outlet. The report does not name Jon as the alleged perpetrator of the abuse.
Article continues below advertisement
Kate responded to the allegations, telling PEOPLE: "You do not punch and kick your children. You do not kick a child. I don't want to hear any excuses from anyone, not from his father, not from local law enforcement, not from court personnel whose job is supposedly to ensure the best interests of my children. There is a child abuse law, PA 23, section 8i states that doing any of the following, regardless of whether it causes injury is child abuse, and first on that list is kicking. Period."
Article continues below advertisement
The reality TV family shot to superstardom in 2007 when their hit show Jon & Kate Plus 8 premiered on TLC. The show centered around watching Jon and Kate navigate daily life with eight children. After their divorce the show then changed to Kate Plus 8 and followed the mom-of-eight as she navigated life as a single mom.
It was reported that Collin spent a little over two years away from his family — to seek help — in a children with special needs program before he went to live with his father.
Kate told PEOPLE, "The police advised me that they removed Collin from Jon's home immediately, and as far as I'm aware, he still is not back."