NEWS
Jon Hamm on Dissing Kim Kardashian: "It's Not Personal"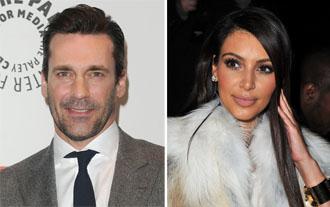 Jon Hamm might have name-dropped and called Kim Kardashian a "f***ing idiot" in an interview with Elle UK, but he swears it wasn't meant to be taken personally. Although, we all know by now, Kim took it very personally.
OK! GALLERY: KIM KARDASHIAN WEARS A BLONDE WIG AFTER JON HAMM'S "IDIOT" COMMENT
"I just heard about the comment Jon Hamm made about me in an interview," Kim wrote on her Twitter Monday, referring to Jon saying "stupidity is celebrated" in our culture nowadays. "I respect Jon and I am a firm believer that everyone is entitled to their own opinion and that not everyone takes the same path in life. We're all working hard and we all have to respect one another," she added. "Calling someone who runs their own businesses, is a part of a successful TV show, produces, writes, designs, and creates, 'stupid,' is in my opinion careless."
Article continues below advertisement
Well, now that Jon knows how Ms. Kardashian feels, he's attempting to apologize, but it's not really working...
"It's surprising to me that it has become remotely a story," Jon told E! News last night during the Mad Men panel at PaleyFest. "I don't know Ms. Kardashian, I know her public persona."
OK! NEWS: KIM KARDASHIAN CALLS JON HAMM'S "STUPIDITY" COMMENT "CARELESS"
"What I said was meant to be more on pervasiveness of something in our culture, not personal," he added, "but she took offense to it and that is her right."
Well Jon, when you call a well-known celebrity an "idiot," they may not be willing to brush it off.