NEWS
Julianne Hough Posts A Swimsuit Selfie While Spending Time With Her Family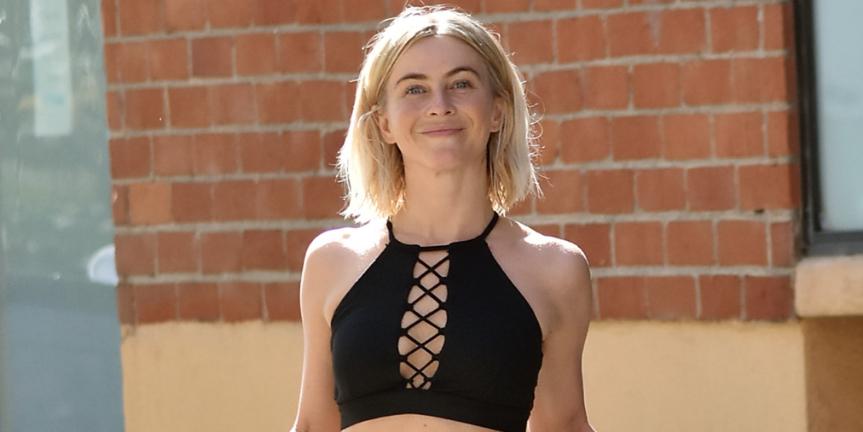 Amid claims that she is missing her estranged husband Brooks Laich, Julianne Hough posted a swimsuit selfie while vacationing in Idaho with her family.
Hough's love life has been making much news after she announced that she was looking forward to reconciling with her estranged husband amid their ongoing divorce.
The 32-year-old is currently on vacation at a lake house at Coeur d'Alene in Idaho. She is spending time with her parents and siblings while taking a break from the hustle of Los Angeles.
Article continues below advertisement
In the selfie that she posted for her five million Instagram followers, she revealed her toned body with her thighs crossed in front of the mirror.
The Dancing With The Stars judge was wearing a multi-color bikini and was seen smirking in front of the mirror.
JULIANNE HOUGH LOOKS RADIANT IN BLUE SEXY BIKINI FOLLOWING BROOKS LAICH SPLIT — SEE THE SNAP!
It was evident that she had been spending much time outdoors as her flat tummy showed signs of a tan. She even pulled her bikini bottom, which went on to reveal even more tan lines.
Her hair could be seen worked up effortlessly with french braid. She also wore a simple gold necklace for her outing in the water.
"Major water vibes," read the caption of the Instagram post.
Her Instagram followers seemed to love her bikini and showered her with praises.
"I love your suit. Where is it from?" wrote a follower.
"Details on the suit!! I need it in my life," said another.
She also tagged her fitness company Kinrgy in the post. Kinrgy is Julianne's own expanded fitness program, which includes workouts and dance as training methods. The brand name is a combination of two words — kinaesthetic and energy.
Article continues below advertisement
FORGIVE AND FORGET: BROOKS LAICH AND JULIANNE HOUGH ARE GIVING THEIR MARRIAGE ANOTHER SHOT
With the conduction of virtual classes and seminars, her classes really seemed to have picked up some pace and have garnered a decent social media following.
Julianne has also been quite active on social media and has been documenting the days she is spending with her family. She is also flaunting her toned body in the several workout images that she has been posting.
The fitness motivator has also been sharing quite a few snaps with her family. She has four siblings — Derek, 35, Katherine, 37, Marabeth, 41, and Sharee, 43.
All four individuals in the family share a love for arts and dancing. Derek has won Dancing With The Stars six times, and Katherine has even starred in 2011's Footloose.
It was reported by Daily Mail last week that Hough was spotted at LAX without her wedding ring. Hughes and her 37-year-old estranged husband and former hockey player Brooks are getting a divorce, even though it was reported that Hough still hopes for reconciliation.