NEWS
Justin Bieber Isn't the Daddy of Selena Gomez's Dog Baylor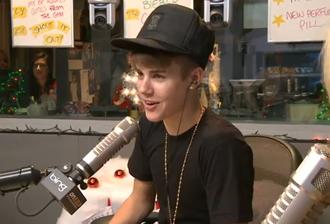 Justin Bieber has found himself busy denying all kinds of daddy claims.
The singer stopped by KIIS FM to chat with Ryan Seacrest and cleared up a rumor that he and girlfriend Selena Gomez had adopted a dog together, the adorable Baylor.
But it wasn't a joint adoption.
OK! NEWS: WOMAN CLAIMS JUSTIN BIEBER'S HER BABY DADDY
"Its so funny because people keep talking about this dog, and I don't even have a dog! I never got a new dog! I didn't adopt a dog," Justin told Ryan on his radio show this morning, adding the only dog he has is named Sam and lives with his grandparents in Canada.
Article continues below advertisement
The Biebs remained coy about who did adopt the dog (Selena).
"A friend of mine did," Justin explained. "I don't have anything to do with the dog. I think he's a cute dog, but he's not my dog! I love dogs, and I condone people adopting from the shelter."
Justin hasn't only been in the headlines this week for his Christmas album release. The 17-year-old singing sensation has been nailed with a paternity suit by a 20-year-old woman claiming Justin is the father of her 3-month-old son.
Star magazine has revealed court papers issued by Mariah Yeate, the new mom who claims she got pregnant after having a tryst with Justin this past year at one of his concerts in L.A.
OK! VIDEO: WATCH JUSTIN BIEBER PERFORM WITY BOYZ II MEN AMID LOVE CHILD SCANDAL
"While we haven't yet seen the lawsuit, it's sad that someone would fabricate malicious, defamatory and demonstrably false claims," Justin's camp told Radar Online. "We will vigorously pursue all available legal remedies to defend and protect Justin against these allegations." Plus, the pop star's representatives indicated that it would have been impossible for him to be alone with her backstage at the concert.
Watch Justin talk about not being the doggy's daddy in the clip below!