NEWS
Justin Bieber Performs on 'Today,' Tells Matt Lauer He Has "A Lot of Insecurities"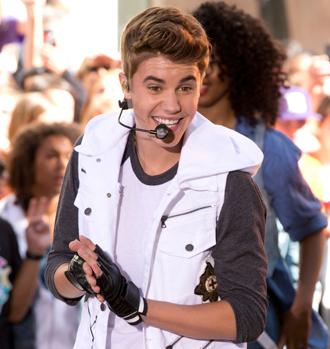 Justin Bieber's new album, Believe, hits shelves on June 19, so everybody's favorite pint-sized Boyfriend singer is knee deep in promotion mode. Fresh off an international tour, he admits to Today's Matt Lauer he's done "more than 100 interviews" and visited seven countries in the past two weeks.
OK! NEWS: JUSTIN BIEBER TELLS FANS "I'M NOT A ROBOT, LET ME PISS"
Regardless, the Biebs looked refreshed and happy, avoiding answering about Selena Gomez and joking about his habit of running into glass —"My brain isn't wired to see glass," he laughed of his almost concussion during a Paris concert.
Article continues below advertisement
Most interesting, however, was Justin's admission that aside from his massive fan base and incredible success at such a young age, he still feels uneasy at times.
"I'm 18 and I have a lot of insecurities. At the end of the day, being in my position doesn't get rid of those insecurities," he said. "I think this album is about proving people wrong and going out there and making good music and going out there and performing better than everyone else."
He has also has a pretty big fear of not making the leap from tween sensation to legitimate music act.
"I'm growing and my fans are growing and I just want to make the music that reflects that," he said. "I just have to go out there and perform better than everyone else in order to crossover. Otherwise, I'm just going to be another teen hearthrob."
Seeing as Justin reigns as the social media king with over 23 million followers, Matt enlisted the singer to help him craft his first tweet.