NEWS
Justin Bieber Tweets "Dear Cougars. I See The Jokes" On His 18th Birthday!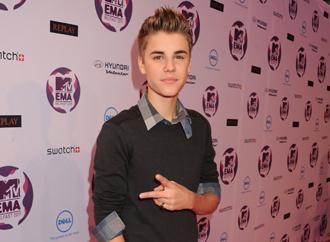 Article continues below advertisement
He also revealed new album details about Believe on Ryan Seacrest this morning, "We've been working with a lot of cool people and just trying to create the best sound for me. I'm now 18 and I'm going to be trying to get an older audience, as well as keeping my younger audience, but just making that good music that everybody can like and vibe to."
"I've been in the studio working with a bunch of different people like Timbaland, Pharrell, and just a bunch of cool people. But, then we're trying to work with people that people aren't familiar with. So, that we create something completely different as well. So, we're making the best album we can."
He also revealed on Ellen that he's rapping on his new single "Boyfriend," which comes out on March 26. "I wrote it with Mike Posner," Justin said. "It's a really awesome song."