NEWS
Karolina Kurkova Talks Babies, Motherhood and Marriage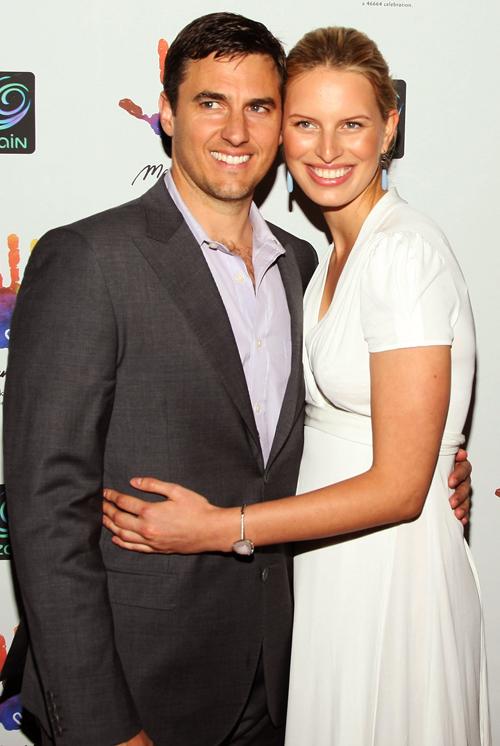 Not only did Karolina Kurkova just reveal she and boyfriend Archie Drury are an official couple and engaged to be married, the happy couple also tell OK! they're expecting a baby boy.
On their very first night out publicly as a couple at the Nelson Mandela Foundation Gala at Grand Central in NYC last night, Karolina seemed to glow with her future husband Archie by her side as she dished on her impending motherhood and nuptials.
Article continues below advertisement
"The wedding is not set yet. We don't know what we're going to do and where," she revealed to OK!. "But I'm definitely very excited. This is my first pregnancy, my first child, my first engagement. I'm just enjoying it more than anything."
"We just found out it's a boy. We're thrilled," Archie tells OK!. "We couldn't be happier."
So does that baby boy have a name yet?
"There's a couple names I like but we're not set on anything. There's one that the baby really likes. It's really funny. So I think he might have decided his name, the baby, not us," Karolina told OK!. "I don't want to say it, but he knows his name because the baby responds when I talk about that name."
The Victoria's Secret model says she and fellow models and moms-to-be Adriana Lima, Heidi Klum and Gisele Bundchen didn't plan on getting pregnant all at the same time, but it's a happy coincidence.
"It's like a baby moment. It's almost like the trend right now," she jokes. "I had no idea. We obviously didn't plan something. It happens."
"I've talked to all of them," she adds of her fellow models, "congratulated them, and Heidi, I've seen her at the Met and that's when she was already showing and popping. She was actually one of the few people that I told because we're very close to our due dates. I think it's awesome. I think it's a nice message for the fashion industry, a nice thing showing that we are real women and we are normal and healthy and that's why we can get pregnant, that we really take care of ourselves and our body. And we're growing up. We're not 17 or 18. We're becoming women and becoming moms."
Article continues below advertisement
Karolina says she wasn't prepared for the overwhelming feelings of being pregnant, telling OK!, "I always wanted to have kids and I love children, but being pregnant, the whole experience of having a baby inside of you that's growing. I start feeling the kicks now and feel the baby, it's just the most amazing thing. I just can't explain."
Karolina isn't the only one excited about their baby, as fiancee Archie gushes to OK!, "We're over the moon!"
"She's going to be amazing," he adds of Karolina as a mother. "I mean incredible. I get emotional when I think about her being a mom."
Reporting by Laura Lane