NEWS
Kat Von D Accuses Jesse James of Cheating on Her?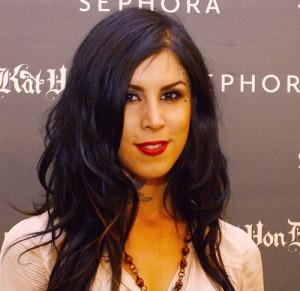 Kat Von D is no stranger to sharing her feelings openly to her 650,000 plus followers on Twitter. Yesterday, the tattoo maven opened up about one topic she won't be writing about in her next book — her "cheating ex."
Kat is working on a new book and Tweeted Monday: "No, my next book will not be about my cheating ex. There are way too many positive and inspiring things to write about instead."
OK! NEWS: KAT VON D CONFIRMS SHE IS NOT IN A RELATIONSHIP WITH JESSE JAMES
Article continues below advertisement
It's very likely that this Tweet is directed to Jesse James, Kat's ex-fiancé, who she recently split with after a rocky relationship.
Kat began dating Jesse the summer after his highly-publicized split from Sandra Bullock, caused by a cheating scandal which rocked their relationship.
Jesse admitted to cheating on Sandra, amid their adoption process of son Louise Bardo Bullock. Sandra now has sole custody of him.
Whether Kat was referring to Jesse cheating on her, or his indiscretions while he was married to Sandra, remains unknown.
However, it does seem that Kat and Jesse did not end on good terms.
When a Twitter follower asking Kat "are you with Jesse or what? Curious!"
She replied bluntly, "hell no."
Last month, Kat wrote a Facebook note titled "ODDS and ENDS" to clear up "a lot of the reoccurring questions" that people have been asking her since earlier this month.
One of those things was about her love life.
"I am not in a relationship (And I apologize for all the "back and forth" if it's caused any confusion)," Kat wrote.
Do you think Kat and Jesse are over for good?