NEWS
Kat Von D Confirms She Is Not in a Relationship With Jesse James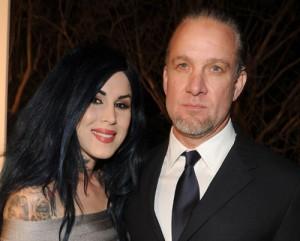 Kat Von D is all about updating fans on her personal life on Facebook. The tattoo maven turned to the Web to clear up some rumors swirling around her, including her relationship status with Jesse James.
Kat wrote a Facebook note over the weekend titled "ODDS and ENDS" to clear up "a lot of the reoccurring questions" that people have been asking her since L.A. Ink ended earlier this month.
Article continues below advertisement
One of those things was about her love life.
"I am not in a relationship (And I apologize for all the "back and forth" if it's caused any confusion)," Kat wrote.
She also confirmed that she has no plans to move to Texas — Jesse's home base — and will not be opening another tattoo shop.
"And I am not leaving my shop here in Los Angeles, High Voltage Tattoo," she explained, adding "I am in no way retiring."
She also reflected on her final days of L.A. Ink.
"As hard as it is to sometimes let go of the things you are so accustomed to doing, I am happy to have done L.A. Ink, but am even more excited about new upcoming ventures — and cant wait to eventually share more about this with you all," she wrote.
Do you think Kat and Jesse are done for good? Sound off below.