NEWS
Kat Von D Confirms She's Dating Jesse James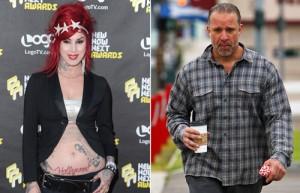 Reports circulated over the weekend that Sandra Bullock's ex-husband Jesse James had started dating tattoo maven Kat Von D, and according to the L.A. Ink star herself, the rumors are true! Looks like Nikki Sixx is history.
"And yes, Jesse and I are dating," the tattoo artist reportedly Tweeted Wednesday, via Extra.
The message has since been removed from her Twitter feed; however, Kat did leave plenty of cryptic Tweets that suggest she is indeed with the West Coast Choppers Founder.
Article continues below advertisement
OK! EXCLUSIVE: JESSE TELLS SANDRA HE'S JUST FRIENDS WITH KAT VON D
"Thanks for all the positive feedback guys.. Means a lot more than u know." she Tweeted Wednesday — most likely referring to her followers reaction to her dating Jesse news.
"@pillowfarmer sometimes it hard to go with what your heart says versus outside influences. But letting other dictate YOUR life is a mistake." Kat Tweeted yesterday.
The couple was also spotted holding hands and having a romantic dinner together on Saturday in Las Vegas, however, Kat's rep insisted they were just friends.
Looks like the tattoo artist wanted to tattoo her new relationship news on her Twitter page for the world to see!