NEWS
Kate Gosselin: Broke Without The TV Show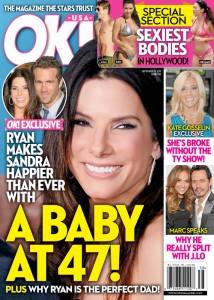 Stay-at-home mom and reality star Kate Gosselin was living the good life — beauty treatments, deluxe vacations, couture clothes — but now that TLC canceled her spin-off Kate Plus 8 the former nurse has to face some harsh realities. In this week's issue of OK!, sources close to Kate give all the details on the deposed diva and her future plans.
"This cancellation caught her completely by surprise — she's devastated," says an insider.
Article continues below advertisement
VIDEO: ANDERSON COOPER PUTS KATE GOSSELIN ON "THE RIDULIST" FOR PIZZA TIRADE
"Kate's worried about paying her bills and continuing to live the life she's become accustomed to," adds another source close to Kate. "She'd gotten used to having all that money rolling in."
Boy, has she!
The unemployed mom shells out approximately $500,000 a year for two housekeepers, two nannies, an assistant and a body guard. Plus, another $500,000 to keep all eight of her children in private school.
That's in addition to Kate's recreational spending. On Aug. 12 — just before TLC pulled the plug — she enjoyed a private shopping spree at Posh ElysaSuzanne Couture in Palm Beach Gardens, Fla.
VIDEO: 'KATE PLUS 8' EPISODE REVEALS KIDS' THOUGHTS ON KATE GOSSELIN DATING AGAIN
Those perks will soon be gone, but Kate isn't giving up on her lavish lifestyle so easily.
She has discussed motivational speaking as well as writing another book (even though her most recent, I Just Want You to Know, tanked). What's more, TLC hinted at Kate's return for an occasional special and she's reportedly negotiating to fill in on CBS's The Talk, which axed hosts Holly Robinson Peete and Leah Remini.
One possible income source is obviously the children, some of whom are keen to enter showbiz. "Kate feels like the kids are still the cash cow," a source tells OK!.
FOR MORE ON KATE'S HIGH-LIVING LIFE AND TOUGH FINANCIAL FUTURE, PICK UP THIS WEEK'S ISSUE OF OK! — ON SALE EVERYWHERE NOW!