NEWS
'Kate Plus 8' Episode Reveals Kids' Thoughts on Kate Gosselin Dating Again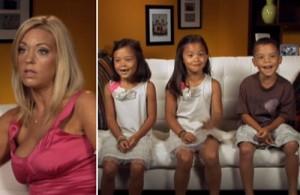 Kate Plus 8 may have just been canceled by TLC, but there are still some new episodes to watch before it's completely over. In last night's episode, Kate Gosselin's eight kids were asked how they felt about mommy starting to date again.
OK! NEWS: KATE GOSSELIN'S KATE PLUS 8 REALITY SHOW NOT RENEWED BY TLC
"I think the kids are ready and open to it," Kate tells the TLC cameras.
But according to the kids, their reactions about Kate dating again are mixed.
Article continues below advertisement
"Yes, I want her to so then she can get married," one of Kate's daughters explained. But one of Kate's sons said, "I would say no."
And there would have to be terms if Kate did date — like no hobos and they still have to be able to see their daddy Jon Gosselin.
Kate agreed and explained, "I'll have to be sure they're in for the long haul before the kids even get to meet them," she said.
OK! NEWS: JON GOSSELIN WASN'T SURPRISED BY KATE PLUS 8 CANCELLATION; SAYS HE IS "VERY RELIEVED"
Watch the clip (via AOL TV), below!