NEWS
Kate Gosselin Wants to Return to TV: "I'm Sure You Will See My Kids Again at Some Point"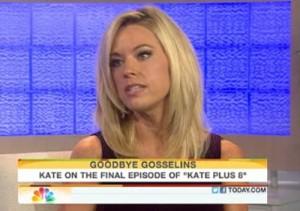 Kate Gosselin is saddened that her days on TLC's Kate Plus 8 are over, but the famous reality TV mom will not stop in her quest to return to the small screen as a means for providing the best she can for her eight children. This morning, on the Today show, Kate revealed that although she is sad and fearful about the next step, she vows to look ahead at other opportunities, regardless of what ex-husband Jon Gosselin thinks.
Article continues below advertisement
"There is sadness, because it's the end of an era," Kate told Today host Matt Lauer. "I feel sad for my kids because of all of the opportunities that they're now questioning.… I feel sad for fans, because they're devastated. They're saying, you know, you're the neighbor moving far away and we won't see you again. But there's also fear because this has been, although maybe not my career, it has been the start essentially of my career and my job and the way I've been providing for my kids for six years. And so, you know, it is a little scary."
OK! NEWS: KATE GOSSELIN BROKE WITHOUT THE TV SHOW
While Jon Gosselin may be "relieved" that Kate Plus 8 has ended, telling Radar Online he hopes it will bring "more privacy" to his children and that they can get "the proper attention they need for any personal issues they might have in the future," Kate does not have the same views.
"Well, it's a situation where Jon may be accepting of 'mediocre' for his kids, and working a regular job," Kate said. "But I want the best for my kids and the best opportunities, not unlike every parent. I think to be a good parent is to work as hard as you can and give them the best opportunities in life, and this TV show has provided that."
Article continues below advertisement
Then Kate revealed that the best thing for her family would be to continue with a new venture on TV.
"I think, at this point, the best opportunity for all of us would be me continuing on TV as a way to provide for my kids," she stated. "Something that's exciting and challenging for me has been TV, and I wouldn't be opposed to it."
"You know, if the right thing came along, I think we are all still in (agreement) with it," she added. "I'm sure you will see my kids again at some point."