NEWS
Katy Perry Promotes Purr Perfume & New 'Do in Toronto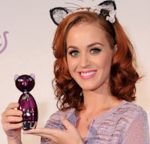 As Katy Perry tours Canada, she made a pit stop yesterday at the Eaton Centre Mall in Toronto. Wearing some kitten ears and showing off a new 'do, Katy promoted her Purr fragrance.
OK! VIDEO: WATCH KATY PERRY'S "LAST FRIDAY NIGHT" FEATURING GLEE STARS DARREN CRISS & KEVIN MCHALE!
The "California Gurls" singer participated in an impromptu Q&A with her fans, as reported by Celebuzz. En route to the mall an excited Katy tweeted: "On my way to launch PURR in TORONTO! FINALLY CA has PURR avail to them! P.s. If u see a ginger haired girl that looks like me, it's me! #yay"
Article continues below advertisement
OK! NEWS: KATY PERRY FLAUNTS HER "HERSHEY'S KISSES" FOR ROLLING STONE — "I CAN'T SEE MY FEET ANY MORE"
Actually, the "ginger haired" entertainer wasn't exactly going for ginger after all. She tweeted a few weeks ago, "So I didn't get to the exact color (sic) I wanted from being black for so long!"
Above all, Katy mentioned the temporary strawberry blonde look is just that: Temporary. "2get to goal I have 2b GINGER for 3WKS. If I don't wait 3wks, I'll end up w/no hair or a #pixie90scutw/abarretteinthefront It's okay, I'll get to my secret color(s) soon! #patience"