NEWS
Kelly Clarkson Jokes Her Songs Are Scaring Away Guys: "I Haven't Had a Boyfriend in Awhile"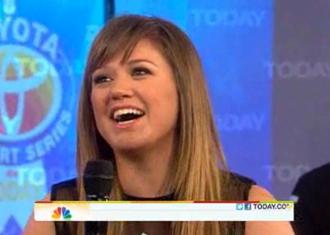 Kelly Clarkson's fifth album, Stronger, is a perfect breakup album and Kelly admits she likes those kind of songs — but it could be hurting her love life!
Kelly stopped by the Today show and chatted with Matt Lauer before performing her hit single, "Mr. Know It All."
Matt decided to read a few positive reviews of her ablum including his favorite from USA Today which read, "Guys, if you go out with a girl who tells you how much she loves Kelly Clarkson's latest album, run away fast!"
Article continues below advertisement
"Which is funny because I haven't had a boyfriend in a while," Kelly laughed. "But, yeah, I just really love songs like that."
"Maybe it's these songs!" Matt said.
"I know," she agreed. "I'm scaring them!"
Do you think that's the case?
Watch a clip of Kelly's "Mr. Know It All" performance, below!
Visit msnbc.com for breaking news, world news, and news about the economy