NEWS
Kelly Osbourne on Miley Cyrus: "I'm Sick of All the Haters Judging Her!"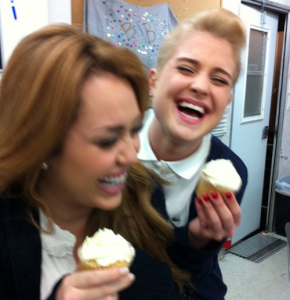 Just when Miley Cyrus needed it the most, Kelly Osbourne stepped up to the plate in support of her pal after the former Hannah Montana star was recently caught on camera smoking out of a bong.
"Miley and I have become really close I'm sick of all the haters judging her she made one mistake and trust me she has learned her lesson!" Kelly wrote on her official Twitter account this week in defense of her new bud.
Article continues below advertisement
OK! VIDEO: MILEY CYRUS BONG INCIDENT GETS SNL TREATMENT
Posting a picture of the friends chomping down on cupcakes and sharing a laugh, Kelly explains that the backlash on Miley is unfair.
"This really makes me mad. Miley is one of the most hard working respectful women I have ever worked with I am learning a lot from her!"
The Fashion Police starlet claims that Miley is actually one of the healthiest people that she knows and is far from going down a bad road.
OK! NEWS: HAPPY 18TH BIRTHDAY MILEY CYRUS!
"Just read in the rags that apparently my mum thinks Miley is a bad influence on me it could not be father from the truth! Actually it's the other way around Miley has us all on a health kick. Gym/early nights There really scraping the barrel on that one!" Kelly tweeted on Tuesday.
The new best friends have been bonding while filming So Undercover together in New Orleans with Alexis Knapp.
The comedy, portraying an undercover FBI operation in a sorority house, is due out in theaters in 2011.