NEWS
Kim Kardashian Asks Tyra Banks for Wedding Dress Input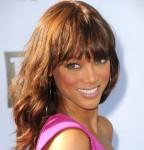 Although Tyra Banks revealed she doesn't know if she's invited to the big wedding next weekend, at the 2011 Do Something Awards she did indicate that Kim Kardashian asked her for input on her wedding dress as they chatted on the red carpet. Find out more after the jump!
OK! NEWS: TYRA BANKS TALKS ABOUT DORM LIFE, SAYS "IT'S LIKE SUMMER CAMP"
Tyra told reporters, "She was asking me about her wedding dress! She wants to show me her wedding dress, her two, and help her decide. So that was flattering. So I think we're gonna do that."
Article continues below advertisement
And if you think Kim gave Tyra any hints as to what they are, think again. The talk show host/executive producer/entrepreneur/supermodel/Harvard student added, "I have no idea but I will know but I can't tell y'all."
OK! NEWS: TYRA BANKS WORRIES ABOUT HER LOOKS
She did, however, tell OK! that Kim should go with a gown that's "tight as hell because she's got those curves and she needs to show everybody just how fine she is when she walks down the aisle."
OK! NEWS: TYRA BANKS SUED BY SEX TEEN ADDICT'S MOM
Whether or not Tyra will be there to see Kim dash down the aisle is a whole other story. When asked what she'll wear to the celebration, she exclaimed, "Oh, I don't know if I'm invited! I'm just gonna help pick out the dress."
Reporting by Amanda Champagne