NEWS
Tyra Banks Sued By Teen Sex Addict's Mom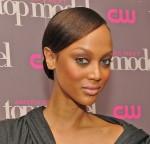 A Georgia woman is suing Tyra Banks for $3 million after alleging that her 15-year-old daughter appeared on an episode of The Tyra Banks Show about teen sex addicts without her permission.
In a lawsuit filed Oct. 8 in federal court in Atlanta, Beverly McClendon claims the show contacted her daughter on the girl's cell phone after she responded to a request on the show's website looking for "sex addicts", reports PopEater.
Article continues below advertisement
OK! NEWS: ROGER FEDERER FIGHTS BACK AGAINST LAWSUIT
The girl was picked up from her home in Georgia, flown to New York and put up in a hotel without her mother's knowledge, the lawsuit says.
McClendon even filed a missing person report with local police when she realized her daughter was gone. The lawsuit also says the teen has never been diagnosed as a sex addict. It also names Warner Bros. Entertainment and the executive producers of the show as defendants.
OK! NEWS: DORA THE EXPLORER STAR CAITLIN SANCHEZ SUES NICKELODEON
McClendon says the 2009 show "was undoubtedly watched by sexual deviants, perverts and pedophiles."
The lawsuit seeks a jury trial and asks for $1 million in compensatory damages and $2 million in punitive damages. It also asks the court to bar the episode from ever being aired again on television or online.
The show violated McClendon's right to privacy by putting her daughter, who was a minor, on television without McClendon's permission, the lawsuit claims.
The lawsuit also claims negligence, saying the teen was paid for her appearance but that the show didn't get permission from the labor commissioner to employ her and didn't get McClendon's permission before paying the girl to fly to New York, stay in a hotel alone and appear on the show.