NEWS
Kim Kardashian: It's a Food Baby, Not Kanye West's Baby!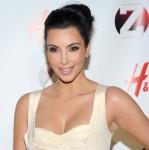 Article continues below advertisement
"My reaction is, 'God, I've got to stay away from those hot dogs and nuts on the street corner and the ice cream!' " she explained to MTV News at Z-100's Jingleball in NYC on Friday. "Like those trucks, I've never seen that before — trucks of ice cream. You have to stop and eat!"
"I couldn't control myself, so in New York I put on like 10 pounds and then I'm pregnant with Kanye's baby, so whatever!" Kim said. "What can you do?! Hit the gym!"
Watch Kim's interview with MTV News below!