NEWS
Kim Kardashian Opens Up to Oprah About Kris Humphries: "I Loved Him, It Just Wasn't For Me"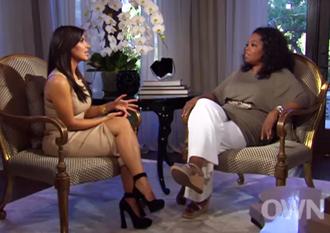 Kim Kardashian has truly had a whirlwind year — meeting Kris Humphries, falling in love, getting engaged and walking down the aisle in an extravagant wedding that aired on television screens around the world. But when her marriage to the basketballer fell apart and she filed for divorce after 72 days, Kim was distraught.
Now, Kim is happily dating Kanye West, but the reality star admits she would have never been able to find love again if she didn't experience the heartbreak she endured following her very public breakup with Kris.
Article continues below advertisement
And despite what all the haters may think, Kim was in love with Kris and truly believed he was the one when she said "I do," last August. But sometimes, feelings change.
"I think when people first meet, everything is great in the beginning," she admitted. "But I didn't spend more than a whole week with my ex before we married. When we moved in together, I saw how our relationship was… I don't want to get into the small things, but once we moved in, I knew he was not the one."
Article continues below advertisement
"I was in love, I wanted the life that I always pictured my fairytale life to be," Kim continued. "I would've had an extravagant wedding anyway, to end that relationship was a risk in itself to lose ratings and I had to take the risk to be honest to myself."
OK! NEWS: KIM KARDASHIAN "LOVES" THAT KANYE WEST IS "OLDER AND WISER"
Now, almost a year since her fairy-tale wedding-turned-nightmare, Kim has found love again and has realized that despite all the pain and humilitation she suffered over the last few months, she's happy and that's all that matters.
"He's a good person," she said of Kris. "I will always have a place in my heart for him. It just wasn't for me. You know in your heart... For anyone I hurt, I'm truly sorry, I don't wish pain on anyone, but the person I am because of that crazy experience, I wouldn't change it for the world. I loved him, obviously it hurt him, and it hurt me too," Kim added. "It was embarassing, I don't want to call it a mistake, it was a lesson."