NEWS
Watch: Kim Kardashian Unearths Horror Movie She Made With Adrienne Bailon!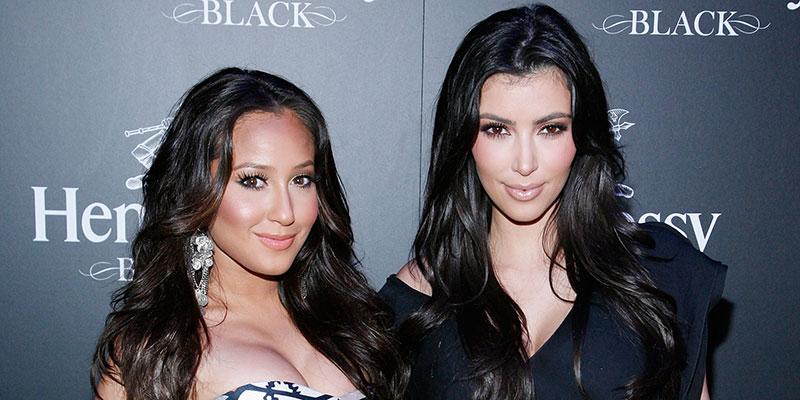 Kim Kardashian took a trip down memory lane on Monday, thanks to her daughter North's new obsession with a girl group that disbanded many moons ago.
North, who accompanied her mother to BeautyCon 2018 last week, is a big fan of The Cheetah Girls, and one of the members happens to be a close family friend: Adrienne Bailon! The Real cohost famously dated Kim's brother Rob from 2007 to 2009 before they split due to his infidelity.
Article continues below advertisement
"North's new obsession! #CheetahGirls," Kim captioned a clip from one of the group's Disney Channel original movies, tagging Adrienne in the process. "Should I break the news to North that this could have been her auntie?!?!?!"
Adrienne, who remains tight with the KarJenner family regardless of her breakup with Rob, responded to Kim's IG story by saying "Just woke up to this! LOL. This hairstyle and this outfit. HYSTERICAL."
That wasn't it though. Kim was able to find a horror movie that she did with Adrienne and the rest of The Cheetah Girls (Sabrina Bryan, Kiely Williams) called Meow that she shared on Monday night.
"So North requested we watch The Cheetah Girls movies tonight! And I found something really special... when they were on tour we made an epic horror movie called Meow and I found it on YouTube."
The film starts off with Kim being a major diva before a scary creature puts something in her drink which winds up killing her. Its up to the other girls to figure out who (or what) did it before it gets to them!
Watch the clip above! What do you think about Kim and Adrienne's horror film? Sound off in the comments.