NEWS
"King of Bachata" Romeo Santos on His Dr Pepper Campaign, Working With Drake, and the Best Advice Tony Bennett Ever Gave Him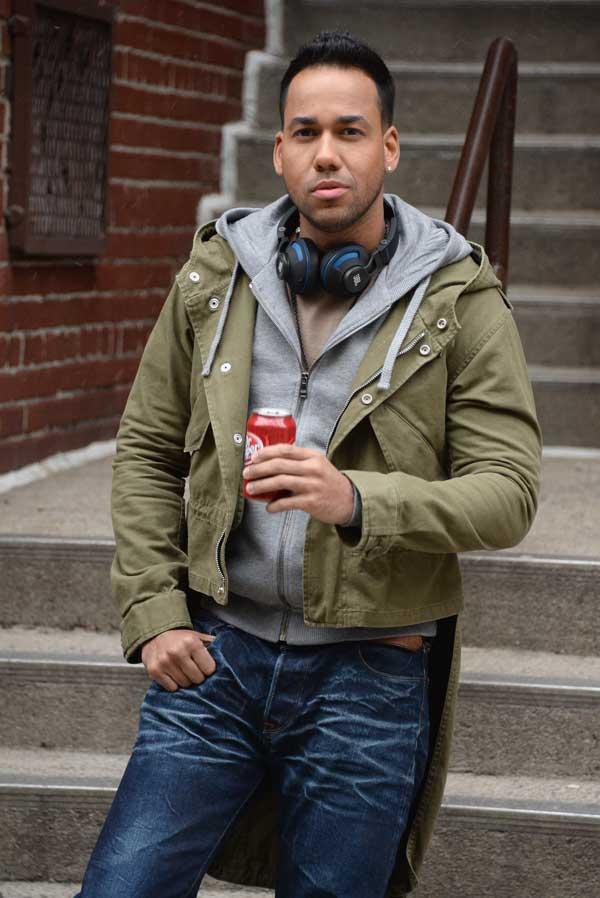 You might know him as the "King of Bachata," but we dare to say that Romeo Santos is also deserving of yet another title. How about royal notable of hard work, accomplishment, and musical influence? With a Dr Pepper campaign underway, (starring himself as one of one ) and an album release featuring hot celebs like Drake and Nicki Minaj only days away, the grammy-nominee is one to watch. We caught up with Romeo Santos the "King of Bachata" and got the scoop on his new campaign and his album's star-studded studio sessions.
Article continues below advertisement
OK! Magazine: How are you feeling about your involvement with the Dr Pepper "/1" campaign?
Romeo Santos: I'm really excited. I've been doing photoshoots—it's the first campaign I've done for the beverage. I've always enjoyed drinking Dr Pepper, and I definitely support the product more than ever.
OK!: What do you think it means to be one of one?
RS: I think it's a great concept. I am one of a kind. They also allowed me to have some input in the concept. The product and myself—we have a lot of similarities. We went back to my old neighborhood to shoot the campaign where I was raised. It was really beautiful and was a nostalgic moment for me.
Stream a Grammys Nominations Playlist!
OK!: Tell us about your new album, Formula Vol. 2, that's coming out?
RS: I'm really excited. It's probably been the most intense album I've recorded. I've been working on it for about a year. I have participation of great artists, featuring Nicki Minaj, Drake, Carlos Santana, Marc Anthony, Kevin Hart, Tego Calderon. It's a continuation of Formula Vol. 1. When I was recording Vol. 1, I had so many ideas and musically speaking, one album wasn't enough. I made Vol. 1 with the intentions of later on releasing a second album.
Article continues below advertisement
OK!: Can you tell us about your single debuting on January 27th?
RS: It's called "Odio." It's about a guy who is madly in love with this girl but somehow, he didn't value her love and this other guy came along and offered her a lot more. Now he is acknowledging that he is a hater. He basically hates this guy—he has the girl he wants to be with. I'm featuring someone in this some, so I'm really excited about that.
OK!: What was it like working with the collaborators on your album?
RS: It was wonderful. These guys are truly professional and very talented. I like to work with people that I admire and respect. I never sit there and say, 'I am going to work with this artist,' and then create the music. It happens very organically. I am creating a song and then sometimes, I am like, 'Wow, this is missing a compliment and we reach out to the artists.' I was definitely aiming big this time. I basically feel very honored and fortunate that I was able to land all these big acts.
OK!: What was it like to be in the studio with these artists?
RS: I was recording with Marc for six hours. That was really fun because we're friends. He's a jokester. And then with Carlos Santana—it was really an honor to be in the studio with someone who is a living legend and yet, he is allowing me to direct him and produce him and guide him into my world. Kevin Hart is on top of the list right now. He's on his A-game and so humble. For them to participate in my album, that really says something beautiful.
11 Pop Songs That Will Probably Win Grammys in 2014
OK!: Did you happen to watch Drake's SNL episode?
RS: I've seen clips. Let me tell you, he did an amazing job.
OK!: You call yourself the "King of Bachata." Why do you proclaim yourself as that?
RS: I basically try to give people top quality. I think that every song has to be like it could be the biggest hit of my album. When I get on the stage, I try to connect with the fans and offer them the best of the best. I want them to see it as a music journey. I go on stage for hours, and I like to give it my all. It's also a huge sense of responsibility because when you call yourself the "King of Bachata"—people expect nothing but the best.
OK!: What other music do you enjoy?
RS: I really enjoy old school R&B. I can go from R&B to Michael Bublé to Nicki Minaj.
OK!: Tell us what you're going to be doing on The Bachelor!
RS: I'm going to be performing one of the new songs from the album. It's a love song.
OK!: What was a piece of advice that someone gave to you about the industry?
RS: The most recent one was with Tony Bennett. I had the opportunity to work with him in his latest production. I was featured, and I said to him, 'How do you do this? How do you stay into this for so long?' He told me, 'You got to love this. You don't do this for the fame or the money. You do this for the love of art.' That stayed in my mind, and I thought they were beautiful words. I visualize myself being in this business that long. I will try to be in the game for that long and have that same aura, charisma, and that approach.
Will you buy Romeo's new album? What do you think about the advice Toni shared? Tweet @OKMagazine and leave a comment below.