NEWS
Kirsten Dunst's Call to Action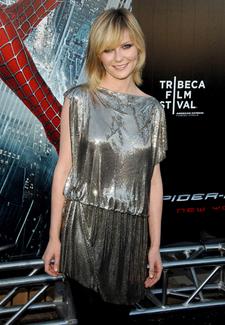 With only two weeks left before Election Day, even celebs are ramping up their last-minute campaigns to get fans to the polls on Nov. 4.
In the latest example of a famous face pushing for votes, Kirsten Dunst stars in a quick spot on MySpace, with her face blurred out and voice lowered for "anonymity,"urging viewers to log on to to find their local polling place.
"What matters is that you vote on Tuesday, November 4th," she says, without endorsing a candidate, adding that America ranks towards the bottom in voter turnout.
Article continues below advertisement
"Come on, let's bring it on and do this," Kirsten urges towards the end of the 40-second spot, just before her face is briefly unobscured.
See Kirsten's call to action below:
<a href="https://vids.myspace.com/index.cfm?fuseaction=vids.individual&videoid=44714505">A Famous PSA: Why Tuesday?</a><br/><object width="425px" height="360px" ><param name="allowFullScreen" value="true"/><param name="movie" value="http://mediaservices.myspace.com/services/media/embed.aspx/m=44714505,t=1,mt=video"/><embed src="http://mediaservices.myspace.com/services/media/embed.aspx/m=44714505,t=1,mt=video" width="425" height="360" allowFullScreen="true" type="application/x-shockwave-flash"></embed></object>