NEWS
Pentatonix's Kirstie Maldonado Reveals Which Pop Artist The Band Will Never Ever Attempt To Cover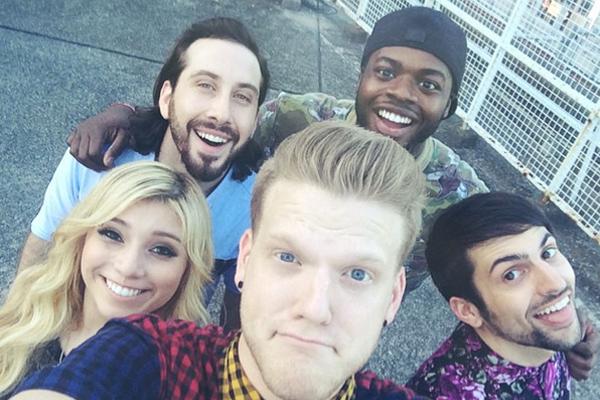 Do these five guys look familiar? They're Pentatonix, the winners of The Sing-Off who are adored by Beyonce and the BEST in the biz at acapella. We chatted with lead singer Kirstie Maldonado about the group's third EP (out today!), their upcoming holiday album, their role as the Barden Bellas' rivals in Pitch Perfect 2, and why they will never ever again attempt to cover a Taylor Swift song. We also asked Kirstie how long it takes the band to arrange a song, if they ever fight about what songs to do, and more! Read below for all the exclusive scoop!
Article continues below advertisement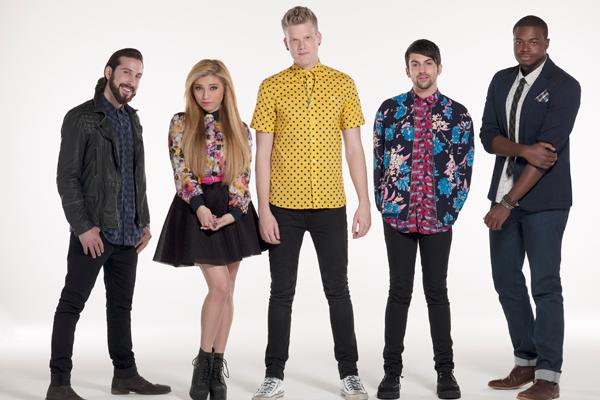 OKMagazine.com: This is your third EP already, but does it feel different this time around?
Kirstie Maldonado: Yeah, definitely. I think the first EPs we were figuring out our sound and now, I just feel very proud of this EP, the covers and the originals, it's really come together at this point. It's also great that now we're with RCA and they have a release plan. It feels really comfortable and that we're being taken care of.
OKMagazine.com: What made you want to put out another Christmas album so close to the EP release?
KM: I feel like our sound is great for Christmas and it's fun to do. We had a lot of success with (the Christmas EPs in) the past so we decided to put a full Christmas album out. And I think it is about putting a lot of content out. Eventually we'll release a full length album that is predominantly originals.
Article continues below advertisement
PHOTOS: Jennifer Lopez Rocks Amazing Fur Vest at the Airport
OKMagazine.com: I read somewhere that you guys have more YouTube subscribers than Beyonce! How does it feel to have that comparison?
KM: That's crazy! I wish we can be compared more to her because she's brilliant and fantastic! So that people are saying that it's just great. It's very exciting (laughs).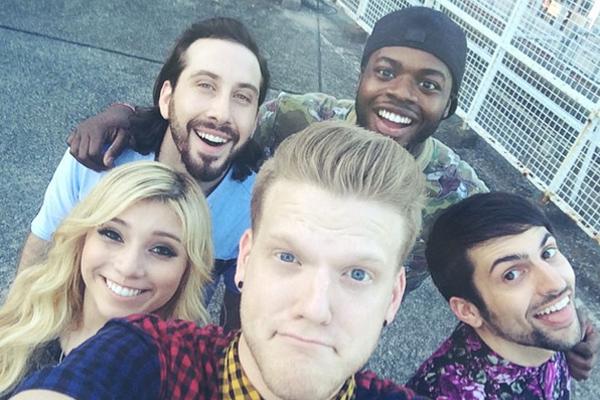 OKMagazine.com: Can you tell me anything about your role in the Pitch Perfect sequel?
KM: I can! We're only in the movie for a little section but we are rivals to the Bellas in whatever competition they are in. And we were given a song and we were out there filming for a day and it was just so amazing to be on a movie set. That's kind of a dream come true. And to be in Pitch Perfect, it's so relevant to us and what we're doing. It was cool to be there.
Article continues below advertisement
OKMagazine.com: I've always wondered, how long does it take you guys to work on a song?
KM: It depends on the arrangement. It could take 3 hours, it could take 3 days, it could take a week. "Thrift Shop" took one arrangement session. We did it all in a circle that day. Evolution of Music and Evolution of Beyonce took a bunch of different sessions. It also depends how fast we need it out, like what the priority is on it. Generally it doesn't take too long unless it needs a lot of attention like the evolutions. Those take a while.
youtube=https://www.youtube.com/watch?v=QkR4asPMip4&w=640&h=360
OKMagazine.com: Do you ever disagree on a song to cover or how the song should be arranged?
KM: We'll make disagreements on the arrangements sometimes but we'll work it out to where it's the best possible product it can be by the end of that. I think that's what's great about our group, because there's just 5 of us, when we throw out ideas we try to work out each idea. It's easy to try it and get rid of it if we need to. But no, there's never a huge fight of how it should go.
Article continues below advertisement
WATCH: Beyonce and Jay Z Release Intimate Footage from Home Videos
OKMagazine.com: Is there a song, an artist, a genre, etc that is sort of off limits?
KM: No, nothing's off limits but we've tried to cover Taylor Swift before and that was awful. That's never worked out for us (laughs). I don't know why, we've tried two of her songs and literally everyone's singing on the solos and it just wasn't really inspiring. The song was great but it just wasn't working for us.
OKMagazine.com: In your Google + Hangout you said that you all want your next cover to be "Bang Bang." Any progress on that?
KM: We haven't made any progress, we're still talking about it. Everytime someone brings it up we're like yeah, we would love to! But I'm sure we will at some point. We all love that song and I think it would do really well for us, so we'll see!
OKMagazine.com: Maybe it'll make it onto PTX volume 4....
KM: Yeah! And I would love to work with Ariana (Grande). She's great so that would be a fun collab hangout.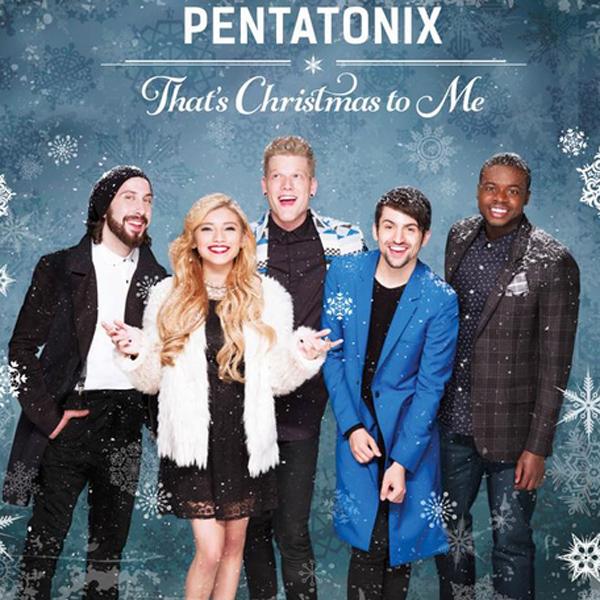 PTX Volume III is out now, and stay tuned for Pentatonix's new holiday album (above), out October 21! Are you surprised that the band couldn't do Taylor Swift? Are you excited to hear their "Bang Bang" cover? Tweet us @OKMagazine.