NEWS
Kourtney Kardashian Helps Deliver Her Baby on Season Finale of 'Keeping Up Wth The Kardashians'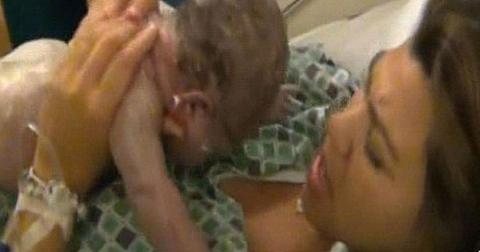 View all comments
Article continues below advertisement
Kourtney reached down and pulled out Penelope with her very own hands. "It's such a magical feeling to say hello to my baby girl," she said.
The whole family was emotional as the newest addition to the clan was introduced and teary eyed Kris Jenner said, "Watching my daughter give birth, it reminds me, it doesn't get better than this. All I really want at the end of the day is for all my daughters to experience that joy in life."
Meanwhile, Kim who wants a family of her own, made the decision to freeze her eggs and confessed she's nervous about it because she has to give herself hormone injections.
OK! GALLERY: KOURTNEY, KIM AND KHLOE CHAT ABOUT ALL THINGS KARDASHIAN ON GOOD MORNING AMERICA
"I'm glad that I'm freezing my eggs. I can be proactive and I can be prepared when the time comes. I want to be safe," Kim said.
And if that wasn't enough drama for an episode, the show also revealed that Khloe is struggling with fertility issues and she learned she isn't ovulating, which means a possible delay in getting pregnant.
Article continues below advertisement
"What I'm trying to figure out with my body is very frustrating and it doesn't feel good," Khloe, 28, said. The tension heated up when Kim told Kris about Khloe's problem.
"I really appreciate Kim trying to be so positive, but what is this medicine going to do to my body? It's a lot of stress and pressure -- nothing is f--king happening!" Khloe said. "What I'm going through, it's not something I have fun talking about over and over and over again and I don't think my family knows how hard it is for me to talk about it too. It's hard for me to be the one of the sisters not to have babies."