NEWS
Kris Jenner Says Kim Kardashian Is "Sick Over" Divorce From Kris Humphries: "It Wasn't a Sham"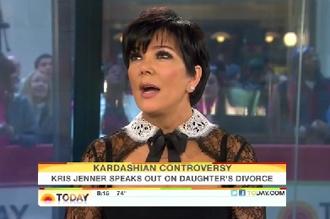 Kris Jenner may have stopped by the Today show Wednesday morning to promote her new book Kris Jenner... and All Things Kardashian, but she spent most of her time on air with Ann Curry talking about daughter Kim Kardashian's big divorce shocker.
Kim announced on Monday that she was filing for divorce from her husband of 72 days, Kris Humphries.
OK! NEWS: KIM KARDASHIAN POSTS MESSAGE TO FANS & UNFOLLOWS KRIS HUMPHRIES
Article continues below advertisement
Their whirlwind romance was displayed for the world to see on the family's hit reality show, culminating in a huge fairy tale wedding special on E! that aired in early October.
But the flame has already fizzled, leaving Kim at the forefront of headlines questioning her intentions for marrying the NBA star.
"It makes me feel sad that some people are reacting that way," Kris said of the media firestorm surrounding her daughter's fleeting marriage. "It certainly wasn't a sham, certainly wasn't for TV. We have enough going on on our show that we don't have to make things up. She felt that she was in love with him. It was an amazing time... I had no idea there was a problem at the time. It saddens all of us."
As for the rumor that Kim made $17.9 million on the wedding, Kris insisted that was false.
"One of the rumors is that we sold the television rights for millions of dollars — not true. We profited, she profited from the wedding? Absolutely false," Kris demanded.
So how much money did they actually make?
OK! NEWS: KRIS JENNER SAYS KIM KARDASHIAN "DIDN'T MAKE A DIME" OFF HER WEDDING TO KRIS HUMPHRIES
"They made some money for the pictures that were sold and things like that, but at the end of the day, that money went towards the wedding and Kim had to pay a great deal of money," Kris explained. "We don't sell television rights."
Article continues below advertisement
But Ann wasn't going to stop there. When asked exactly how much Kim and Kris made off the pictures, Kris clarified, "less than a million, more than half a million dollars."
Kris also debunked rumors about the reported $2 million engagement ring.
She said the ring was nowhere close to that price and estimated that it was around half of that, maintaining that business regarding the ring will be handled between Kim and Kris.
"I know that Kim plans on making very generous contributions to a really deserving charity when she gets home and trying to make that right because she feels really bad about that," Kris continued.
Kim is currently working in Australia, but will address more about her split when she returns.
OK! NEWS: KRIS JENNER THANKS FANS FOR "SUPPORT" AMID KIM KARDASHIAN'S DIVORCE FROM KRIS HUMPHRIES
"She's sick about it," her momager said. "She had to come out and say look, 'I made a mistake and I feel terrible.' "
But Kris has no regrets about having her family's lives captured on reality TV.
"This is what we do. We have people who have invested in our lives from day one, season one, and we enjoy what we do. I feel so blessed and grateful for the TV show," Kris said.
Watch Kris' interview, via Today, below.
Visit msnbc.com for breaking news, world news, and news about the economy