NEWS
Kristen Stewart & Chris Hemsworth Reveal They're Writing the Sequel to 'Snow White'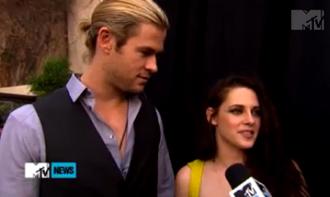 Snow White and the Huntsman may have just opened in theaters last Friday, but the cast and crew are already conjuring up plans for the sequel. Actually, Kristen Stewart and Chris Hemsworth revealed they're writing the screenplay for Snow White and the Huntsman 2 at the MTV Movie Awards on Sunday!
When MTV's Josh Horowitz asked Kristen if she was writing a movie with boyfriend Robert Pattinson, the actress said, 'No,' but Chris chimed in and confessed that it's he and KStew who are working on a script.
Article continues below advertisement
OK! GALLERY: KRISTEN STEWART & CHRIS HEMSOWRTH PROMOTE SNOW WHITE AND THE HUNTSMAN IN LONDON
"We are!" Chris announced, "Snow White and the Huntsman 2 written by us, and it might be more of a straight-to-video version if they let us write it."
"No, no," Kristen replied, as Chris defended his statement, saying, "If they let us write it! If they let us write it."
"It'll be better," Kristen gushed. "Our version? We've basically written it. No, I'm kidding. We're gonna write the second one, all of us in the cast."
"We are," Chris joked. "It's gonna be a group kind of exercise. Everyone just closes their eyes and starts scribbling and then whatever's on that page, that's the script."
Although a sequel to the box-office smash has been discussed, nothing is set in stone yet. But if a script is penned, director Rupert Sanders says the character of Snow White will definitely be "darker" in the second installment.
Article continues below advertisement
"Well, I'm not saying anything. Nothing at all," Kristen laughed, visibly upset by the concept of a mean Snow White. "Let's undermine our entire lead character in the very second film. It's like, 'No, that's my whole thing.' It would be so weird to make her darker. It would break me, which would probably be interesting to watch."
"But then we have to rebuild you, which is exciting," Chris added.