NEWS
Kristen Stewart: Over the New Moon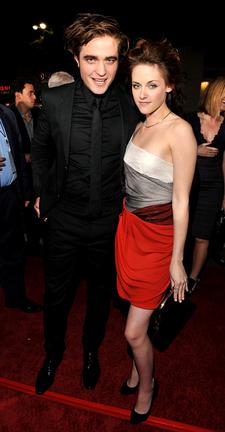 The Twilight saga keeps going and going and....
On Tuesday, the film's star Kristen Stewart called in to Ryan Seacrest's morning radio show in L.A. and talked about how excited she is to make the sequel to Twilight.
CLICK HERE for OK!'s Twilight Gallery!
Kristen also revealed some exciting details about the just announced sequel, New Moon, (based on Stephenie Meyer's book by the same name) saying production will most likely start "in March."
Article continues below advertisement
"A lot of the book takes place in Italy, and I think we're going to get to go to Italy-- which is so cool," Stewart, 18, says. "For a while there they were like 'Oh we don't know if we have the money,' but uh, now I think we may have the money," she laughed.
Twilight smashed box office expectations, raking in more than $7 million during its opening weekend. Kristen says she understands fans who are going to see the movie over and over again, and their obsession with the film's heroine Bella Swan.
"It's oddly engaging. I mean you read the book and you feel like you are the character," she says. "It's a totally vicarious experience. She's Bella such a good strong female character. I can understand why girls put themselves in her position."
Of her leading man, Robert Pattinson, Kristen says she knew immediately that he was the one to play the gorgeous and mysterious Edward.
"Everyone came in during the auditions and it was, like, so obvious they were thinking, 'Am I posing the right way?' He was thinking about more than that. It was like he knew what it would be like to be a 108-year-old vampire living alone."
She adds, "It's a pretty serious role. On the surface it's like, 'Oh yeah! you're playing the hottest vampire ever!' But it's a lot more than that."
CLICK HERE for OK!'s Twilight Gallery!
But Kristen says don't be fooled by R-Patts well-tuned sense of humility!
Of comments Pattinson, 22, has made saying he doesn't know how to kiss or act, Kristen retorts, "I don't know why he does that! He gets a kick out of that," she laughs. "He tries to do that..It's totally contrived and intentional! He's done so much press I think he' s just taking the piss now--to use an English expression!"